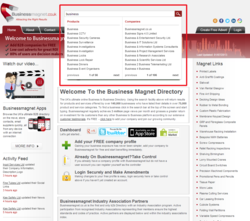 although our customer base hadn't directly asked for this feature it was clear from analysis of their feedback that even faster and more accurate search results than we currently had would be something of great benefit
Stevenage, Hertfordshire (PRWEB UK) 23 January 2013
UK top-ranking business to business online directory, Businessmagnet.co.uk, has added a new predictive result based search function to its already comprehensive list of features. Back in June of 2012 the award winning company launched a completely new version of its website and this new search functionality was very much at the heart of the redesign.
After paying close attention to a series of customer surveys they realised ultra fast search results were something that could be very advantageous for their users. Director Daniel French stated that "although our customer base hadn't directly asked for this feature it was clear from analysis of their feedback that even faster and more accurate search results than we currently had would be something of great benefit".
The Businessmagnet team sought the help of an external developer who had been working on an advanced search algorithm for over 7 years. From this he created a bespoke version of the search code that uses multi-threading to index their entire database of over 140,000 subscribers and 75,000 products and services in less than 30 seconds. This index is then accessed by the user when they do a search and accurate results can be returned in less than one one-hundredth of a second.
When compared to their competitors search function, this is light years ahead. On many other UK based business to business online directories a word, or words, would need to be typed and return pressed before the results are displayed. Whereas with this new search function the results start rolling in after the third letter is input. Furthermore, it's the way in which these results are displayed that really sets it apart from that of their competitors.
A number of other equally well known directories provide predictive search results as the user types however, Businessmagnet goes a step further. With their search function the user is provided with two lists, one for products and the other for companies, each showing a navigable ten top of the list's entries. It's this level of rapid information access that gives the directory's users an unparalleled experience putting them in contact with the most suitable business for their needs.
With six months having passed since the new site's launch, and the implementation of this business leading search function, the feedback from Businessmagnet's subscribers has been very positive. "Essentially we wanted to ensure that users of our directory are being put in contact with the right person at the right business as quickly and effortlessly as possible" said Mr French "and that's exactly what they are getting thanks to the ultra fast targeted searches our service now provides".
Visit http://www.businessmagnet.co.uk by clicking this link on any internet enabled device.