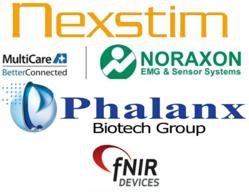 Jupiter, FL (PRWEB) January 08, 2013
DMG Productions announced today that an upcoming episode of Health Heroes: Advancements in Neurology, will be airing on January 17, 2012, at 7:00 a.m. EST and 7:00 a.m. CST on The Discovery Channel.
This particular episode will focus on the revolutionary advances being made in neuroscience. Despite an unprecedented amount of research, the brain remains the most mysterious of all human organs. Health Heroes: Advancements in Neurology will take viewers behind the scenes of Nextism, an organization that is working to solve these mysteries.
Health Heroes: Advancements in Neurology will also explore Multicare and Noraxon; two companies working on cutting edge advancements in electromyography technology, or EMG. Follow us as we take viewers to Puyallup, Washington, home to MultiCare, one of the world's premier locations for the treatment of cerebral palsy. Television audiences nationwide will be taken behind-the-scenes, and learn how MultiCare and Noraxon are working together to solve one of the most challenging mysteries in history: the human brain.
In addition, Health Heroes: Advancements in Neurology will take viewers behind-the-scenes for a look at Phalanx Biotech Group, a company founded in 2002 by several leaders from the highly regarded Industrial Technology Research Institute of Taiwan. Audiences will learn firsthand about Phalanx labs, and the technology they are developing that is helping to improve the detection of genetic abnormalities worldwide.
Health Heroes: Advancements in Neurology will also focus on fNIR Devices to learn about how this company is redefining neuroscience. Observers will learn about what is possible when an fNIR device is deployed in the field.
"We are truly excited to be able to bring this vital information to our viewers," said Sarah Cass, Creative Director for DMG Productions. "We hope everyone tunes in to watch as Health Heroes: Advancements in Neurology takes a behind-the-scenes look at the some of the amazing companies working toward advancing our knowledge and capabilities when examining the human brain."
About Health Heroes:
Health Heroes is a powerful TV series dedicated to defining and exploring today's latest medical advances in all areas of health and wellness. Written with both the industry professional and television audience in mind, Health Heroes educates, entertains and enlightens the lives of our viewers.
For more information visit: http://www.dmgproductions.org or call (866) 496-4065.
About DMG Productions:
The DMG production team consists of producers, cameraman and editors that have worked for CNN, TLC, Discovery, and other major news and cable networks. Our staff includes personnel specialized in various fields from agriculture to medicine, independent films to regional news. Our field producers utilize the core concepts from our producers who storyboard our programs, and work closely with experts in the field to develop the educational programs. This powerful force enables us to consistently produce commercial-free, educational programming that both viewers and networks depend on.
Contact:
Sarah Cass
Creative Director / DMG Productions
(866) 496-4065 X 802
sarah(at)dmgproductions(dot)org