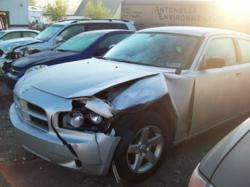 In many cases, a driver's insurance company suggests an auto body shop for repairs, and the driver, without question, feels that they must follow the recommendation.
Delaware County, PA (PRWEB) January 30, 2013
Direct Paint and Collision, a Havertown, PA based auto body shop, leads the way in combating poorly repaired and poorly painted vehicles that result from insurance companies trying to save money and keep insurance costs low. In an effort to educate customers on how the fight to lower car insurance rates is hurting good auto body shops, Direct Paint and Collision has launched a new marketing campaign.
When insurance companies recommend an auto body shop to a driver, small repair shops lose potential customers, and car owners may put their vehicle in jeopardy when relying on body shops that potentially offer low quality parts and less skilled labor. In an effort to combat this problem, Direct Paint and Collision has launched the "It's Your Right to Choose" marketing campaign this month to educate drivers.
"Each day Americans involved in motor vehicle accidents are faced with the challenge of having their car repaired," Michael Mardinly, owner of Direct Paint and Collision said. "In many cases, a driver's insurance company suggests an auto body shop for repairs, and the driver, without question, feels that they must follow the recommendation."
Direct Paint and Collision will begin the campaign in early February by sharing weekly blog posts and newsletters that highlight the benefits of drivers choosing local repair shops. While the campaign is an ongoing marketing effort, the repair shop will also announce a contest at the end of the month to promote support for local auto repair shops.
Insurance companies can offer a collision repair facility steady work in exchange for cheaper and perhaps corner-cutting work, which results in insurance companies steering customers towards these select company-preferred facilities. Insurance adjusters will then use tactics to make a car owner feel as though they don't have another choice because, in the end, the insurance company is simply looking to cut costs while retaining policyholders. See also: Edmonds.com Confessions from the auto body shop.
How are body shops cutting corners? In some cases, body shops replace Original Equipment Manufacturer (OEM) parts with used or aftermarket parts made by third party manufacturers that may not be built the same as the OEM parts. Using cheap parts and paint can cause a car to age prematurely and can also lead to unexpected water damage. Ensuring that a repair shop installs OEM parts is important for newer and luxury cars, but in older cars it may not make a difference. However, some unethical shop owners may charge a customer for an OEM part when in reality the shop used an aftermarket part. See also: Preferred Shops and OEM Parts
In other cases, often when the damage to the vehicle is minor, the insurance company will offer to send out an adjuster to estimate the damage and write a check to fix the damages. Car owners are not required to use the money from the claim to fix their vehicle. Many people will cash the check and decide not to fix the minor damage to their vehicle. Like this story on DelcoAutoRepair.net, an insurance adjuster may not estimate the full extent of the damages out of laziness, a lack of experience, or in an effort to save the company money. Taking a damaged vehicle to a trustworthy body shop can result in a much higher estimate, even if the owner doesn't decide to fix the vehicle and keeps the money for the damages.
Direct Paint and Collision's ultimate goal is to educate consumers on determining whether or not they have the right to choose a repair facility in their state so they can support local repair shops and ensure the best quality repairs.
Other Resources:
http://www.edgarsnyder.com/car-accident/auto-insurance/auto-insurance-faq.html
http://www.mopar.com/assets/pdf/service_and_parts/collision_parts/statecollisionrepairlaws.pdf