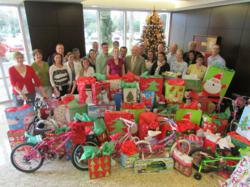 "It's immensely rewarding to know that all of the foster kids adopted by CFE woke up on Christmas morning to new toys and clothes.
Lake Mary, FL (PRWEB) January 08, 2013
CFE Federal Credit Union helped to brighten the holidays for needy kids and families in Central Florida by donating gifts, toys, and gift cards for foster children, plus grocery products to help families who are without food.
Through partnering with Devereux, the largest non-profit provider of child welfare services in Central Florida, CFE received the names and top three gift wishes of 50 foster children, and granted every wish on each child's list. Departments and branches selected their own child to adopt, with employees contributing to their adopted child's list rather than buying gifts for one another. Some even went above and beyond, buying additional clothing items for their child. Tenants housed in its main operations center supported the gift project and adopted several children on CFE's "angel" list.
"It's immensely rewarding to know that all of the foster kids adopted by CFE woke up on Christmas morning to new bikes, clothes, shoes, dolls, play kitchens, leggos, bedding sets, remote control cars, MP3 players, and much more," said Joseph A. Melbourne, President and CEO of CFE. "Our employees and tenants also donated many other toys for foster children not included on our adoption list, plus we were pleased to include $500 worth of gift cards for groceries and other necessities."
Additionally, CFE held a food drive inviting members, employees and building tenants to donate non-perishable food items. To encourage participation by employees, CFE held a jeans day for employees who donated food items or donated at least $5 online to the Team CFE Virtual Food Drive. The Second Harvest Food Bank of Central Florida was delighted and grateful to receive over 1,100 pounds of grocery products and $500 cash donation to benefit the 732,000 people in Central Florida who find it necessary to seek assistance for food.
CFE Federal Credit Union was founded in 1937 and currently serves more than 123,000 members. As of November 30, 2012, CFE had total assets of over $1.357 billion and deposits of over $1.133 billion. Membership eligibility includes anyone who lives, works, attends school, volunteers, or worships in the Orange, Osceola, Lake or Seminole Counties of Florida. Businesses and other legal entities may join as well. The credit union serves its members at 19 full service branches, 4 high school branches, 41 ATM locations and through 24-hour Internet access. CFE is recognized as a Top 25 in The Orlando Sentinel's Top 100 Companies for Working Families for 2012.