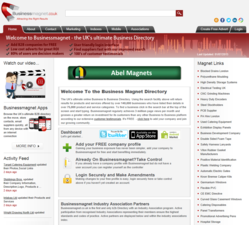 Ultimately this redesign has empowered our users with enhanced creative control to make their advertisement standout from their competitors
Stevenage, Hertfordshire (PRWEB UK) 30 January 2013
Six months have passed since the launch of Businessmagnet's fully redesigned business to business directory and the feedback from their customers has been extremely positive.
With a drive to always stay one step ahead of the competition and provide their subscribers with the most up-to-date experience possible, the directors at one of the UK's leading online B2B directories, Businessmagnet.co.uk, decided a year ago to implement a complete redesign of their website.
Although the look of the site has now been modernized this wasn't just a cosmetic overhaul. The project was born from a desire to produce industry leading tools and a feature set which would provide the best possible return on investment for those advertising on the directory. Their peerless statistics reporting tool, itraka™, has been enhanced to improve tracking and a host of powerful new features have been added.
"Very much at the core of this redesign was the decision to give our users greater customization of their advertisement and to do this we went right back and rewrote the entire site's code from scratch" stated Director Daniel French. "We felt it was also important to make sure that the information our customers provide through the new advert management portal is displayed as clearly as possible; this is where our new tabbed browsing feature really excels".
The directory's account holders can now separate their company information into individual categories via these tabs across the top of their listing. Each one has a summary tab to begin with, giving an overview of the company, and even those with only the free advertising package have access to powerful yet user-friendly new features like the 'opening hours' tab. With the higher end packages come options to add features such as a tab with links to their pages on social networking sites, another for their company's key contacts and even, with the premium package, the ability to embed a video into their listing.
However, the redesign hasn't only benefitted users listing an advert but also any user who has searched the site. A new predictive search function added as part of this project has greatly enhanced the speed and accuracy with which users can find an appropriate listing. Within a few keystrokes the user is provided with relevant directory entries listed by product and by company; a feature that sets Businessmagnet's search capabilities beyond that of its competitors.
"Ultimately this redesign has empowered our users with enhanced creative control to make their advertisement standout from their competitors" Mr French commented. "This has resulted in a high level of satisfaction amongst our customers and it's clearly being shared as we've seen significant growth in the number of users since the new site went live, and this is a trend we expect to continue for the foreseeable future".
Are you a business to business company and based in the UK? Well you can add your business for free to businessmagnet by registering by clicking this link.