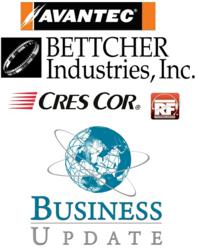 Jupiter, FL (PRWEB) January 08, 2013
DMG Productions announced today that an upcoming episode of Business Update: Food Service in America, centered on the foodservice industry will be airing on Monday, January 21, 2013, at 7:00 a.m. EST and 7:00 a.m. PST on The Discovery Channel.
Viewers nationwide will be treated to an in-depth look at a different side of pizza in this segment of Business Update: Food Service in America. While many may take a quick glance when picking up dinner for pizza night, most will be truly surprised to learn about Avantec Ovens' amazing level of precision that goes into making a great pie.
Business Update: Food Service in America will examine the exciting advancements currently being made in food service equipment manufacturing as we take an in-depth look at Bettcher Industries' Optimax breading system, considered to be the pinnacle of breading technology.
From high-tech food service equipment, to the latest software helping restaurants grow their operation, join Business Update: Food Service in America for a behind-the-scenes look at CresCor, a family owned company who has been a leader in the mobile food service industry since 1936.
In addition, Business Update: Food Services in America will educate viewers on how R.F. Technologies, Inc. is helping the quick service restaurant (QSR) increase intelligence about drive-thru performance. Well-known throughout the industry, R.F. Technologies is a one-stop headquarters for drive-thru, surveillance and point-of-sale needs.
"This episode of Business Update: Food Service in America is going to be extremely educational," said Sarah Cass, Creative Director for DMG Productions. "We look forward to watching these stories unfold, and are eager to provide our viewers with this behind-the-scenes look at the foodservice industry."
About Business Update:
Business Update is a corporate-America type series covering the world of business, finance and technology. From Main Street to Wall Street, our award-winning producers take an in-depth look into some of the hottest topics and current trends impacting our society.
About DMG Productions:
The DMG production team consists of producers, cameraman and editors that have worked for CNN, TLC, Discovery, and other major news and cable networks. Our staff includes personnel specialized in various fields from agriculture to medicine, independent films to regional news. Our field producers utilize the core concepts from our producers who storyboard our programs, and work closely with experts in the field to develop the educational programs. This powerful force enables us to consistently produce commercial-free, educational programming that both viewers and networks depend on.
Contact:
Sarah Cass
Creative Director / DMG Productions
(866) 496-4065 X 802
sarah(at)dmgproductions(dot)org