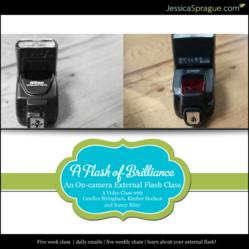 "A Flash of Brilliance will teach photographers how to take pictures any time of day or night using an external flash, which can open so many doors!"
Apex, North Carolina (PRWEB) January 07, 2013
Candice Stringham, editorial photographer turned scrapbooker, will be teaching A Flash of Brilliance -- An On-camera External Flash Class at JessicaSprague.com. The five week class will be taught by Stringham and her two co-teachers, Nancy Riley and Kimber Hodson. Flash of Brilliance is part of Stringham's photography class series which also includes Oh Shoot! Beginning Digital SLR Photography, Photographing People: Portraiture 101 and Advanced Composition - Person, Place, Event, or Thing.
"Most beginner and intermediate photographers have mastered taking great pictures using natural light, but get tripped up when good light is not available" said Stringham. "A Flash of Brilliance will teach photographers how to take pictures any time of day or night using an external flash, which can open so many doors!"
Participants in A Flash of Brilliance -- An On-camera External Flash Class will learn:

How to use an external flash in TTL mode so that the camera and flash work together automatically to meter the exposure, giving you the flexibility to capture the right moment.
How an on-camera flash can create natural or flattering light, rather than the typical deer-in-the-headlights look often associated with flash.
•How to bounce your flash using the ceiling and the walls and still achieve directional light.

How to mix your flash with available light so it either blends in naturally or selectively draws attention to your subject.
What light diffusers and other modifiers can and can't do, when they should be used, and how to wade through the hype!
The class begins January 21, 2013. Two levels of registration are available. The standard class is $135 and the extended class, which includes comments on your photographs, is $195. Click here for more information and to register.
About Candice Stringham
Candice Stringham is an editorial photographer turned scrapbooker. She is a former Contributing Editor for Creating Keepsakes Magazine and was inducted into the Creating Keepsakes Hall of Fame in 2006. Candice Has a BFA in Photography and taught at a collegiate level after she graduated. She has also been teaching live workshops for Canon for the past few years. She is excited to be teaching at Jessica's website because helping people learn how to use their cameras is one of her greatest joys! Adventurous, but down-to-earth, Candice loves to read, watch old movies and musicals, read anything Jane Austen and create fun projects and traditions with her family. She recently moved from Brooklyn, NY to San Antonio, Texas with her three sons and husband. You can learn more about Candice on her blog.
About JessicaSprague.com
JessicaSprague.com is the leading website offering online classes and products for digital crafters. Founded in 2007 by world-renowned crafter, scrapbooker, instructor and author Jessica Sprague, JessicaSprague.com provides professionally designed, video-based online classes in Photoshop and Photoshop Elements for customers interested in learning about digital scrapbooking, photo editing, mouse-and-paper crafting, and more. The site's mission is to provide instruction, inspiration, and products to help people grow their skills, beautify their lives, and enhance their relationships with the people that matter most to them. The website's offerings include digital scrapbooking paper, digital brushes, digital element packs, lesson packs, weekly tutorials, and online classes in digital scrapbooking, mouse-and-papercrafting, photo editing, and more.
###