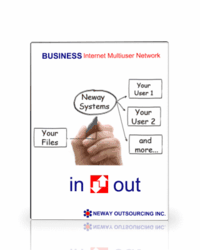 Get your 30-day free trial now!
El Paso, Texas (PRWEB) January 08, 2013
NEWAY Outsourcing Inc., Software Division launched last month In and Out, a Visual Software for business. It is a platform or corporate site online, based on security concepts like "The Cloud" in which NEWAY has represented and selected with ICONS a number of key performance indicators (KPI).
With more than 35 years of experience in business, NEWAY has the knowledge and expertise to determine which KPI are the basis for business decision making so executives can make decisions with a higher probability of success to take their business to where it needs to be.
Consider this, when a driver wants to travel a great distance it is necessary for him to check a KPI, the fuel gauge, to decide whether there is enough gas or if he needs to fuel up. At the same time he is calculating the cost, which gas station should he go to, how much gas he needs. Then the driver proceeds to check the rest of the KPI, such as the temperature gauge, mileage, and so on. By checking all the KPI, he can make an informed decision that will result in a pleasant and successful trip.
Businesses have similar KPI that permit executives to know if the business is in good standing and ready to take it to where the company needs to be. In and Out is the ideal dashboard and up until now the only one of its kind that offers KPI for business in one site.
In and Out is a site to share business goals with a group of people that are part of a business project for a week, month, year, or whichever time the selected key group members will be working together. With In and Out's KPI, business executives share confidential information to know how their business is being managed. In and Out also offers universal KPI that are necessary to all business and are important for good business management. Such universal KPI are weather, stock market, and international news, for now, others are being research.
Take advantage of this technological administrative development that NEWAY Outsourcing Inc., Software Division is developing and perfecting to provide more successful tools for business. Log on to http://www.softwareinandout.com for your free 30-day trial and/or e-mail at info(at)softwareinandout(dot)com for more information.
NEWAY OUTSOURCING INC., was established in 2001 in El Paso, Texas. In 2012 it opened its software division. Creating In and Out, this worldwide online platform, is creating endless possibilities on the way business is conducted through out the world and how businesses interact with each other. It is a NEWAY… of doing business.