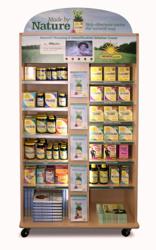 It's the best of both worlds—a truly integrated solution to shoppers' health questions in one location.
Clearwater, FL (PRWEB) January 08, 2013
Personalized Supplements at Shoppers' Fingertips
Supplement shopping can be a daunting prospect for consumers. The supplement section in most health food stores contains an extensive inventory from vitamin A to witch hazel. When it comes to their specific health concerns, shoppers are facing aisles of options, and sometimes with limited guidance.
"We wanted to take some of the guess work out of supplement shopping," says Brenda Watson, C.N.C, PBS health educator, and President of ReNew Life. "I remember how overwhelmed I felt with all the options out there when I first started delving into health supplements. When it comes to internal cleansing and detoxification, I still feel that this specific supplement group could use some streamlining."
Streamlining the shopping experience is just what ReNew Life intends to do with its new Natural Cleansing & Detoxification Solution Center, a first-of-its-kind display in health food stores that will help shoppers research, understand, and find the cleansing supplement that works best for their specific needs. Detoxification and cleansing is a fast-growing area of interest for consumers, though these types of supplements are often spread throughout supplement departments rather than found in one centralized place.
The Digital Age Goes Natural
"We've combined the immense benefits of quick and interactive information with time-tested therapeutic ingredients in our Natural Cleansing & Detoxification Solution Center says Watson. "It's the best of both worlds—a truly integrated solution to shoppers' health questions in one location."
The Natural Cleansing & Detoxification Solution Center is designed to help those looking for herbal, fiber, and probiotic supplements that address issues such as:

Occasional constipation
Digestive imbalance
Natural liver detoxification
Total body cleansing
Weight management
Yeast and Microbial imbalances
ReNew Life's "Made by Nature" promise means that every supplement in the Cleansing Solution Center contains only 100% natural, all-active ingredients. The company uses no added binders, fillers, or artificial ingredients and supports each product with free brochures that have made ReNew Life the leader in health supplement education.
The Cleansing Solution Center offers shoppers several unique ways to match them with the best supplement for their concerns:

An interactive monitor featuring quick, condition-specific health videos
Free informative health booklets that consumers can take home with them
Solution-oriented supplements including multi-nutritional fiber types, herbal cleansing & detoxification blends, and probiotics that address a variety of health concerns
Look for the Natural Cleansing & Detoxification Solution Center's wood finish display and "Made by Nature" sign in health food stores nationwide starting January, 2013.
About Renew Life
Named America's No. 1 Digestive Care and Cleansing Company by SPINS, ReNew Life Formulas was founded in 1997 by Brenda and Stan Watson and offers a full spectrum of natural digestive care supplements and functional foods. Each ReNew Life product is made from only the finest raw ingredients. The company's analysis, educational materials, customer service, and superior manufacturing practices all set the benchmark for others in the industry. Above all, ReNew Life is dedicated to helping their customers achieve and maintain optimal health, increase energy, and enhance their mental clarity.
For additional information on ReNew Life's new Natural Cleansing and Detoxification Solution Center, please contact bcooper(at)renewlife(dot)com.