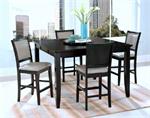 With the busy holiday season behind us, we are still committed to offering the best furniture for the best value
Gardena, Calif. (PRWEB) January 09, 2013
At Best Offer Furniture, a new lineup of dining room tables set the scene for family entertaining during the holidays. These tables maximize legroom in style and put every guest well within conversation range.
Discover a new dining space for the new year by selecting a classic or modern dining room table that fits your unique style. A wide range of table sizes and shapes make it easy for customers to host an informal holiday lunch or entertain a large number of guests with an elaborate holiday dinner. Many dining room tables can also be ordered with an extension leaf for even more versatility. Deep, rich finishes and solid wood construction add to the expertly crafted appearance of these tables.
"Our company's most popular products continue to be dining room tables," said Joe Podzimek, spokesperson for Best Offer Furniture. "We've been in business for more than 55 years, and we're proud to offer our expertise to our customers. With the busy holiday season behind us, we are still committed to offering the best furniture for the best value."
In addition to standard height dining tables, shoppers can select from a wide variety of counter height dining tables. Many tables also come with chairs or stools to make it easy and affordable to select the perfect dining room furniture.
With exceptional style and value, Best Offer Furniture offers the perfect dining table for any décor. With a complete online selection of furniture for any room in your home, you're sure to discover unbeatable value from manufacturers all over the globe. No matter the setting, a dining room table from Best Offer Furniture provides quality at an affordable price.