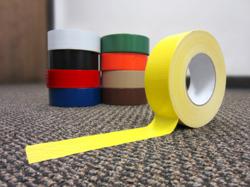 "Our office is completely carpeted and we discovered the carpet floor tape was the perfect solution for marking lines to our service desk and directing customers to other areas of the office."
Lake Oswego, OR (PRWEB) January 09, 2013
Floor tape is being used in many facilities for marking off aisles, pathways, staircases, and hazardous areas. But the main focus has been marking concrete production floor areas or tiled areas in facilities. 5stoday.com is now offering floor tape designed to be used on carpeted floors. This product is great for office areas, classroom floors, municipal buildings, entertainment facilities, and any carpeted floor that needs to be visually organized to direct foot traffic or convey messages of possible hazardous zones.
Municipal buildings such as airports or DMV's, could benefit from carpet floor tape by using it to direct foot traffic of where to go and how to get there. The floor tape is made of heavy duty rubber adhesive and adheres well to many surfaces and is transfer resistant. The tensile strength won't break in tough applications and is water resistant and UV resistant. Airport terminals endure a great deal of foot traffic and inexperienced travelers become confused when strolling through the terminal from one gate to the next. The floor tape is a great tool to guide travelers through the terminal and mark off lines to reservation counters or self service machines.
The floor tape is a great solution for any type of office scenario that is carpeted. It can be used to hold down electrical wires extending from computers, lamps, telephones, etc creating safety in the workplace. No more accidental tripping over loose cords. Hazardous areas in carpeted facilities can be marked off with the black and yellow colored tape identifying the space is off limits. Housekeeping can mark off the areas that are being shampooed so no one enters while the carpet is drying from being cleaned. An office manager commented, "Our office is completely carpeted and we discovered the carpet floor tape was the perfect solution for marking lines to our service desk and directing customers to other areas of the office."
For more information about carpet floor tape, please visit http://www.5stoday.com or call toll-free (866) 402-4776 to speak with a professional representative.