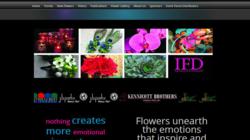 beautiful and wonderfully done!

Vincenzo Butera, AIFD, PFCI
Richmond, Indiana (PRWEB) January 09, 2013
Here are the four most important trends in wedding and event flowers identified to emerge in 2013:
Peach roses and pink peonies captivate in the charming taste of the emerging Heirloom theme. Heirloom embraces and honors the past in a romantic, elegant manner with a modern feel with nostalgic twist!
A fantasy of rich and exotic elements and colors; royal tones of teal, violet, emerald, plum and sapphire, excite quests and wedding parties alike in the bold Enchanted style. Bright pink phalaenopsis orchids, green spray chrysanthemums and blue hydrangeas are just a few of the flowers that can be combined to create this magical, mystical journey.
Organic materials presented in a modern contemporary style will be popular. Eco Chic stimulates senses through the contrast of extreme opposites! The flowers are big and impactful like white calla lilies and green anthurium or cymbidium orchids. Eco Chic embraces Haute Tension and builds contract against its clean lines and bold colors using natural accents.
For the bride that wants to express inner excitement there is Personality Palette. This theme allows brides to ignite their fanciful inner emotions and express a playful fun side. It is the feeling of a whimsical county fair or olde world carnival created in a bright color palette of tangerine, pink and yellow accented in a warm earthy taupe.
Flower Trends Forecast 2013 was prepared by Bill Schaffer, AIFD, PFCI and Kristine Kratt, AIFD, PFCI of Schaffer Designs, Philadelphia. PA. Both are leading event designers whose creative work places them at the forefront of emerging floral trends. Their artful interpretations guide an understanding of the flowers, colors and styles that are best expressing the emotions and dreams of brides today. The video presentation of Flower Trends Forecast 2013 can be seen at FlowerTrendsForecast.com.
Understanding and utilizing today's event trends is one of the keys to making each wedding truly special. To provide event professionals with a better understanding of how to use the emerging trends in event flowers Bill Schaffer and Kristine Kratt will present an industry education program on January 18, 2013 at The Special Event in Chicago, IL.
FlowerTrendsForecast.com serves as a new gateway to the IFD Flower Gallery, home to 3,000 images of cut flowers. The online search tool provides an efficient means to see the thousands of cut flowers available in today's worldwide flower market.
About FlowerTrendsForecast.com
FlowerTrendsForecast.com is an educational web site owned by International Floral Distributors, Inc. (IFD). IFD is a consortium of floral distributors with 53 locations across the United States providing quality fresh flowers and florist supplies to event floral specialists. IFD is owned by 18 likeminded floral wholesale distributors who are dedicated to serving the unique needs of companies that specialize in floral products. For more information about IFD visit
http://www.ifd-inc.org.