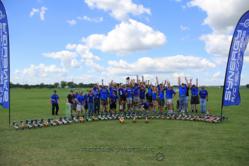 This technology - and specifically the process we invested in - yields incredibly impressive results.
Philadelphia, PA (PRWEB) January 08, 2013
There is a new and exciting technology in custom printed shirts called Direct to Garment printing or DGT for short.
The screen printing industry is abuzz about this groundbreaking tech that allows makers of custom printed shirts to print digital images on virtually any fabric with vibrant full color results.
Rush Order Tees has invested in the newest and most advanced printer as well as color-correcting software programs to offer digital direct to garment printing to both business customers and consumers.
Ron Reed, Rush Order Tees VP of Marketing and eCommerce, noted, "This technology - and specifically the process we invested in - yields incredibly impressive results; It will revolutionize the custom printed shirts industry." Reed expanded, "A video highlighting the process was posted just days ago and we've already had customers requesting this method for their designs. The colors and vibrancy from this machine are very impressive."
For More Information on DTG Direct to Garment digital printing, contact Rush Order Tees at 1.800.620.1233.
About RushOrderTees.com
The Rush Order Tees brand was established in 2001 as specialized wing of Printfly to focus on efficiently printing and delivering custom made t-shirts to serve customers needing "rush"service. Over the past decade, the Rush Order Tees brand and service has grown in popularity beyond all projections to be national leader in the custom apparel industry. Having evolved to serve both rush and non-rush standard delivery customers, the brand has become equally synonymous with quality and value as it originally was with speed.
Built on repeat business and referrals from satisfied customers, both Printfly and the Rush Order Tees brand has grown to become major players in the space serving such high-profile clients as Google, Microsoft, federal US agencies, the Oprah Winfrey Network, NBC, the US National Institute of Health, multiple federal agencies, and high-profile global charities.