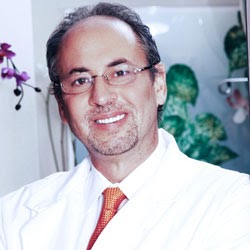 "For the first time, I feel like I have a real viable option for my
patients which actually eliminates cellulite."
(PRWEB) January 08, 2013
Cosmetic Plastic Surgeon Dr. Andre Berger is pleased to be one the first cosmetic plastic surgery practices in Beverly Hills and the Los Angeles area to offer patients Cellulaze, a breakthrough long-lasting, anti-cellulite treatment designed to increase the skin's natural elasticity while leveling out uneven fat tissue. Other cellulite treatment methods are only temporary, and to achieve any result, the treatments must be repeated daily or weekly for the benefits to manifest themselves. Cellulaze, on the other hand has demonstrated results that last for at least a year after only one treatment.
Cellulaze is the only cellulite treatment on the market that attacks structural problems beneath the skin that cause cellulite. Performed under local anesthesia, Cellulaze utilizes a unique, side-firing laser to target the causes of cellulite beneath the skin: pockets of fat, stiffened fibrous bands and thin skin. During the procedure, a tiny laser fiber is inserted under the skin, which gently heats the skin and melts the fat Next, the laser releases the fibrous bands that create the dimpling or "orange-peel" effect and prevents them from pulling down on the skin. This release creates a smoother, healthier look on the skin's surface. Finally, the laser energy stimulates collagen production to increase the skin's thickness and elasticity for a more even appearance.
"I am very excited to offer Cellulaze to my patients in Beverly Hills and Los Angeles," noted Dr. Berger. "For the first time, I feel like I have a real viable option for mypatients which actually eliminates cellulite."
There are many factors that contribute to cellulite forming. While cellulite predominantly affects women, it is typically caused by a combination of factors, which are primarily outside of one's control. Heredity, age, weight changes, thickness and elasticity of the skin may all play a role in the visibility of cellulite. Dr. Berger added, "Cellulite has been one of the toughest skin treatments to correct, and the results rarely lasted. With Cellulaze, I am now seeing long-lasting, consistent
results in my patients after a single treatment. Simply put...it works!"
As mentioned before, treatments in the past have been largely ineffective because the underlying structural problem of cellulite was not addressed. Cellulaze is the first cellulite reduction treatment to provide long-lasting results in a single treatments finally women can win the battle against cellulite they have been struggling with.
About Dr. Berger:
Dr. Berger is a triple board-certified physician and the founder of Rejuvalife Vitality Institute. He specializes in age management wellness and cosmetic treatments. Dr. Berger has been board certified by the American Board of Emergency Medicine, for 20 years and is a diplomat of the American Board of Anti-Aging and Regenerative Medicine and the American Board of Holistic Medicine. He received his Medical Degree from the University of Ottawa and completed his training in both Internal Medicine and Clinical Pharmacology at McGill University. Dr. Berger has more than thirty-years of experience in the medical fields/with specific experience in clinical and medical management, pharmacology, nutraceuticals, emergency medicine, cosmetic medicine, anti-aging medicine and regenerative medicine.
Dr. Berger strives to incorporate innovative techniques supported by clinical evidence and is proud to be one of the first to offer the new state-of-the art FDA approved Cellulaze procedure in the Los Angeles area.