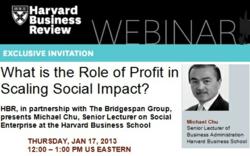 The goal of this three-month pilot project is to reach a growing audience seeking content on how business leaders across all sectors can accomplish social change in the world.
Boston, MA (PRWEB) January 10, 2013
The Bridgespan Group and Harvard Business Review today announced the launch of the Insight Center on Scaling Social Impact, an online resource published on HBR.org that will feature the latest and best thinking on social enterprise. Supported by the Omidyar Network, this partnership will provide a platform for the field's global leaders to share stories and lessons on the relationship between for-profit ventures and social change. The Insight Center will feature blogs, full-length articles, and interactive webinars from prominent names in the industry.
As part of the Insight Center's launch, Michael Chu, senior lecturer at Harvard Business School, managing director of IGNIA Fund, and former President and CEO of microfinance agency ACCION, will host a webinar on January 17 on "What is the role of profit in scaling social impact?" Chu will examine three cases of private sector response to public sector failures: Compartamos Banco, Farmacias Similares, and Manila Water. (Register here).
"The goal of this three-month pilot project is to reach a growing audience seeking content on how business leaders across all sectors can accomplish social change in the world," said Katherine Bell, editor of HBR.org. "We're excited to be partnering with The Bridgespan Group because they bring a deep expertise in mission-driven organizations and innovations in social change."
The Insight Center will focus on three areas of interest:

What are market-based approaches to social change and how should they be funded
How to develop talent that makes the enterprise tick
How to scale what works using technology, measurement, and other levers
"We are pleased to partner with Harvard Business Review to provide a new generation of socially-conscious leaders with a forum for ideas and best practices, including how the private sector and mission-driven social organizations can come together in powerful new ways," said Bridgespan Partner Katie Smith Milway, who is co-leading the development of the Insight Center.
Among the organizations that will be contributing content to the site in addition to Harvard Business Review and The Bridgespan Group are Omidyar Network, IBM, Center for Effective Philanthropy, Harvard Business School's Social Enterprise Initiative, INSEAD's Social Enterprise Center, World Business Council on Sustainable Development, Duke's CASE program, Intel, General Electric and a host of nonprofits, foundations, and individuals who have worked on both sides of the private sector and nonprofit aisles. Topics will cover a range of issues including: how impact investing is about to evolve; how crowdsourcing is changing funding for social change; how nonprofit startup challenges differ from for-profit startups; and discussions on prevailing ways to measure social value.
###
About The Bridgespan Group
The Bridgespan Group (http://www.bridgespan.org) is a nonprofit advisor and resource for mission-driven organizations and philanthropists. We collaborate with social sector leaders to help scale impact, build leadership, advance philanthropic effectiveness and accelerate learning. We work on issues related to society's most important challenges in three primary areas: pathways to opportunity for disadvantaged populations, environmental sustainability, and civic engagement. Our services include strategy consulting, executive search, and leadership development, philanthropy advising, and developing and sharing practical insights.
About Harvard Business Review
Harvard Business Review is the leading destination for smart management thinking. Through its flagship magazine, 11 international licensed editions, books from Harvard Business Review Press, and digital content and tools published on http://www.HBR.org, Harvard Business Review provides professionals around the world with rigorous insights and best practices to lead themselves and their organizations more effectively and to make a positive impact.