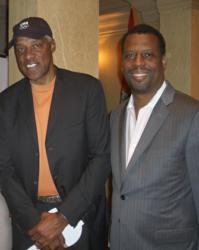 I had a wonderful time in Fort Myers meeting with the very best Olympic athletes from around the world
Hollywood, California (PRWEB) January 09, 2013
Bernard Bonner, CEO of Business Development International (BDI) attended the The Art of the Olympians College of Life Foundation Premiere Golf Classic in Fort Myers, Florida in December, 2012. Nearly 60 celebrities took part in the 3-day event, which raised money for Art of the Olympians non-profit programs. Iconic sports superstars like Julius "Dr. J" Irving, Jackie Joyner-Kersee, Al Joyner, Chris Mullin, Mike Eruzione, Tim Hardaway, Carl Lewis, Thurman Thomas, and Gary Sheffield were in attendance. Bonner's attendance of this event follows his attendance and co-chairing The Clinton Foundation - Night Out With The Millennium Network which was held in Los Angeles, California on October 8, 2012.
"I had a wonderful time in Fort Myers meeting with the very best Olympic athletes from around the world. It was a pleasure attending this charitable event." States Bernard Bonner. "These athletes are very much like everyday businessmen and executives because they really understand commitment to excellence. Sports and business can always be compared to one another because to have success in either requires the same successful traits and discipline. Bob Beamon, Carl Lewis, Jackie Joyner-Kersee can easily be compared to a Jack Welch, Bill Gates, or Steve Jobs. These people are winners and clearly understand what it takes to accomplish goals as an individual or with a group."
In February of 2013, BDI will be opening offices in Beverly Hills, CA to handle the rising request from the Entertainment and Sports Communities. BDI will be assisting Celebrities and Professional Athletes expand and grow their business interest outside of their profession. Business Development International will assist by reviewing and assessing risk related to any business ventures their presented as well as offering consulting services to their existing business ventures and ensuring they are successful.
About Business Development International
BDI is a group of highly trained and diverse set of executives, consultants and staff with one purpose: To empower the world's small to medium-size business owners and their employees with the "know-how" using tools, training, procedures and motivation proven to provide growth and prosperity.
BDI works with clients across a number of industries. Our expertise cuts across these industries to understand the major issues that each industry faces. We use our 1-3 day analysis to quickly identify your companies specific issues and then help you address these problem areas. With our immediate hands-on expertise we help you make the shifts necessary to thrive and grow.
About Bernard Bonner
Bernard Bonner is CEO of BDI and with 25 years of experience in the fields of executive and management consulting in the construction, retail, manufacturing and transportation industries, Bernard is considered an expert in the field.
Mr. Bonner attended Texas Southern University in Houston, Texas and studied Marketing. After college, he played on the professional tennis circuit and was sponsored by Evander Holyfield, the former heavyweight champion of the world. After playing tennis for several years, in 1997, Mr. Bonner joined a company called International Profit Associates and went on to become a "Top" business analysis within the company. He was responsible for conducting a comprehensive and objective 3rd party analysis which identified all companies strengths and weaknesses and what could be done to improve them. In November of 2003, Mr. Bonner left IPA and began to work with different businesses as a consultant so he could learn exactly how to implement the theory he'd learned as an Analyst and apply it to everyday businesses to produce results.
In September of 2007 after 4 years and 7000 hours of practical application and getting many businesses to function at a very high level, he opened Business Development International Inc so he can help businesses, executives and celebrities worldwide. Mr. Bonner is known as the "Business Consultant to the Stars!"