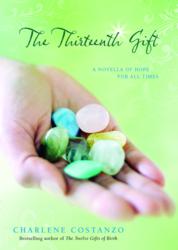 Those living in today's fast-paced, dog-eat-dog world can learn much from this short yet potent tale
Sedona, Arizona (PRWEB) January 09, 2013
"I'm honored that The Thirteenth Gift was recognized for excellence among independently published titles and received the Ippy Gold Award in the category of Inspiration/Spirituality," said the book's author, Charlene Costanzo.
"And I'm delighted to offer this timely novella free on Amazon's Kindle from January 9 -13 as a way for readers to feel refreshed and empowered within themselves as we start a new year," she said.
"Those living in today's fast-paced, dog-eat-dog world can learn much from this short, yet potent tale," praised one reviewer. "Its message is powerful and speaks to all: we each possess great gifts within, yet perhaps the most vital to hold close to, on a daily basis, is 'wonder.' This message can be like a salve to the subtle wounds of disconnect so many of us suffer from, living our high-tech lifestyles, so often far removed from the truly essential delight, bliss and awe we receive any time we're actually experiencing a state of wonder."
This award winning book presents a fable within a contemporary story. In the outer story, the central character, Clair, is a U.S. journalist who is torn between pursing her ambitions and dedicating herself to her family. Claire also faces the choice to focus on what's wrong in the world or to promote what is promising. While on assignment in Eastern Europe, Claire stoops to pick up a stone and learns of a local legend which explains why people world-wide collect stones. The deceptively simple story about "the thirteenth gift" has a profound affect on Claire, transforming her marriage, the way she sees the world, and her work in the world. The inner fable depicts the struggle between growing freedom, equality, and opportunity for all people and attempts by the privileged class to prevent that growth. It's a timeless story about the worth and dignity that is inherent in all people.
Charlene Gorda Costanzo is an author, workshop facilitator, wife, mother, and grandmother. She holds a B.A. in Philosophy from St. Bonaventure University and an M.A. in Spiritual Psychology from the University of Santa Monica.
Her collection of books that celebrate and explore life's gifts and the inner resources within all people began in 1987 when Charlene wrote The Twelve Gifts of Birth as a guiding message for her own, then teenage, daughters. Twelve years later she published the book and began discussing its message in schools, shelters, prisons, churches, and hospitals throughout the United States.
The Twelve Gifts for Healing was written while Charlene was in treatment for advanced non-Hodgkin's lymphoma in 2001. The Twelve Gifts in Marriage comes from the ups and downs, ebbs and flows, and hurts and healings that are part of every long-term marriage.
Touchstones: Stories for Living The Twelve Gifts offers fifty true stories that demonstrate the power of using one's inner resources in everyday life.
To learn more about Charlene Costanzo and The Twelve Gifts collection, visit the author's website, where one can sign up for a daily inspirational emailed message. Or subscribe to that at Today's Touchstone.