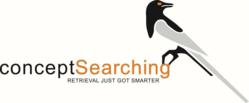 The flexibility of our technologies has enabled us to focus on continuous innovation, and as a result we have maintained our unique position in the marketplace as the only company able to apply automatically generated semantic metadata.
McLean, VA / Stevenage, UK (PRWEB) January 09, 2013
Concept Searching, a global leader in semantic metadata generation, auto-classification, and taxonomy management software, and developer of the Smart Content Framework™, is pleased to announce that in 2012 it achieved fourth quarter revenue growth of 82 percent over the previous year's corresponding quarter, and 53 percent revenue growth for the full year, while maintaining for a fourth successive year an operating margin of at least 63 percent. Since 2006 Concept Searching has sustained an average 50 percent revenue growth year on year. Read the 2012 Business and Financial Overview and the Company History for details.
According to Martin Garland, President of Concept Searching, "The flexibility of our technologies has enabled us to focus on continuous innovation, and as a result we have maintained our unique position in the marketplace as the only company able to apply automatically generated semantic metadata. Clients are increasingly deploying the technologies to resolve the issues of migration, compliance and governance, specifically in the areas of intelligent content migration, sensitive information breaches, records identification and information transparency. Solving these issues with unified technologies has enabled our clients to achieve quantifiable benefits."
Highlights for 2012 include:

Concept Searching has maintained an average growth rate over the past seven years of over 50 percent per year, while managing the business to an exceptional 66 percent operating margin for the fourth consecutive year.
Concept Searching launched the Smart Content Framework™, which provides the building blocks and best practices to develop an Information Governance strategy to plan for, deploy, and manage intelligent metadata enabled solutions.
Concept Searching continued its leadership in the industry through the delivery of intelligent metadata enabled solutions, which include semantic metadata tagging, auto-classification, taxonomy management, and search enhancements. 33 percent of its clients have also deployed the technology for intelligent migration, 23 percent for text analytics, 29 percent for sensitive information and data privacy, 25 percent for records identification, and 21 percent for Freedom of Information Act (FOIA).
Concept Searching welcomed a number of new clients from a wide range of industries, including the US Army Medical Command, the UK Foreign & Commonwealth Office, Moffitt Cancer Center, Brailsford & Dunlavey, New Zealand's Waikato Institute of Technology, and four global oil and gas enterprises, solving unique challenges with proven solutions.
Concept Searching's global government and DoD intelligence practice grew by over 500 percent, as a result of major wins in the US DoD and UK central and local government sectors.
Concept Searching's oil and gas practice similarly grew by over 300 percent, with major new clients in the UK, US and Canada, with much of this growth in the areas of intelligent migration and metadata driven compliance.
It was another successful year for the Microsoft suite of products, as Concept Searching was first to market with a single code base able to be deployed with SharePoint 2007, SharePoint 2010, SharePoint 2013, and Office 365, providing clients with the choice of on-premise, cloud based or hybrid solutions.
The deployment by clients of the non-SharePoint platform was equally impressive. Concept Searching announced the availability of its technology on the Amazon Web Services (AWS) platform, and is actively deploying this within a major US government department. One of the top three technology research analyst firms successfully deployed the technology on the Solr platform.
Concept Searching's conceptSearch, an advanced search engine platform, continued to grow, with a number of new clients including those in the defense and professional services industries. Many of Concept Searching's DoD and Fortune 500 clients have now had the platform deployed for over five years. The US Air Force Medical Service is now in its eighth year, supporting some 66,000 users.
The SharePoint practice was the primary driver for revenue growth. Concept Searching is the software solution of choice in the marketplace and integrates natively with the SharePoint Term Store, maximizing the effectiveness of content types and enterprise metadata management properties.
For the fourth consecutive year, Concept Searching maintained its status as the only managed Microsoft ISV partner in the SharePoint ecosystem for metadata enabled taxonomy and auto-classification solutions.
Looking forward to 2013, Martin Garland said, "In 2012 we succeeded in fulfilling our promise to drive value for our clients by continuing to deliver a powerful value proposition and a strong return on investment. In 2013 the goal is to maintain our leadership position in the delivery of intelligent migration, and metadata enabled compliance solutions, already deployed by many customers over the past two to three years, by continuing to develop the product portfolio to anticipate the needs of our clients and partners."
Follow Concept Searching: http://www.twitter.com/conceptsearch
About Concept Searching
Founded in 2002, Concept Searching provides software products that deliver conceptual metadata generation, auto-classification, and powerful taxonomy management from the desktop to the enterprise. Concept Searching, developer of the Smart Content Framework™, provides organizations with a method to mitigate risk, automate processes, manage information, protect privacy, and address compliance issues. This infrastructure framework utilizes a set of technologies that encompasses the entire portfolio of unstructured information assets, resulting in increased organizational performance and agility.
Concept Searching is the only platform independent statistical metadata generation and classification software company in the world that uses concept extraction and compound term processing to significantly improve access to unstructured information. The Concept Searching Microsoft suite of technologies runs natively in SharePoint 2007, SharePoint 2010, SharePoint 2013, FAST, Windows Server 2008 R2 FCI, Office 365, and in Microsoft Office applications.
The building blocks of Concept Searching's Smart Content Framework™ are being used by organizations from a diverse number of industries including the US Army, the US Air Force, the UK MOD, Baker Hughes, DAI, Deloitte, Logica, NASA Safety Center, OppenheimerFunds, Point B, Perkins+Will, Parsons Brinckerhoff, Burns & McDonnell, MarketResearch.com, the US Department of Health & Human Services, Transport for London, the London Fire Brigade, the National Transportation Safety Board, and Xerox.
Headquartered in the US with offices in the UK, South Africa and Canada, Concept Searching solves the problem of finding, organizing, and managing information capital far beyond search and retrieval. The technologies are being used to improve search outcomes, enable effective records management, identify and secure sensitive information, improve governance and compliance, add structure to Enterprise 2.0, facilitate eDiscovery, and drive intelligent migration. For more information about Concept Searching's solutions and technologies please visit http://www.conceptsearching.com.
All product and company names herein may be trademarks of their respective owners.