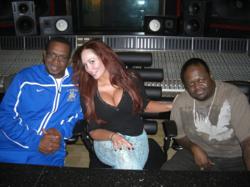 It's hard trying to put into words what it was like working with the legendary Uncle Luke
Hollywood, California (PRWEB) January 09, 2013
Jenna Bentley - famous FHM, Playboy and Maxim cover model has finished recording her debut single "Smoke That" recorded with the legendary hip hop and Miami Bass pioneer, Luther "Uncle Luke" Campbell. Uncle Luke founded the iconic and controversial group 2 Live Crew, and heads the Luke Entertainment Group.
"Smoke That" will be available January 25, 2013 on iTunes. The song was produced by 4 time Grammy awarding winning producer and writer, Jason "Poo Bear" Boyd & The Audibiels.
"It's hard trying to put into words what it was like working with the legendary Uncle Luke." States Jenna Bentley. "Uncle Luke is hip hop royalty and it was an honor to have him on my song. I believe "Smoke That" will be a smash hit and I know that my fans will love it! 2012 was a wonderful year for me. I met some amazing people; The Wanted, One Direction, Nicki Minaj, Drake, Uncle Luke, Poo Bear, Quinton Aaron and more. I attended the MTV VMA's, the American Music Awards, and other red carpet events. Now I'm ready to take 2013 by storm with my new projects! Here comes Jenna Bentley! "
Hip Hop/Rap pioneer, the legendary Luther "Uncle Luke" Campbell states, "Jenna is such a pleasure to work with. She's hard working and determined to be a success and I do believe in her talent. Jenna has a bright future ahead of her and I'm glad to be on this project."
About Jenna Bentley
Jenna Bentley is a multi-talented model/actress/dancer and aspiring hip hop artist. Jenna Bentley was born and raised in Billings, Montana where she founded a small dance school and participated in beauty pageants. Jenna was discovered for her stunningly beautiful looks at court side during a SUNS vs. Celtics basketball game by a boutique Scottsdale modeling Agency. Ms. Bentley was hesitant at first; but with her background in singing, music, dance, choreography, as well as beauty pageants she decided to take a chance and sign with the agency.
Her career has been a whirlwind success ever since. In just over a year she, was featured as cover model on more than a dozen magazine covers. Jenna Bentley shot the cover of FHM Magazine, and have been featured in Maxim, SI Magazine, and have worked with famed Sports Illustrated photographer Antoine Verlgas.
Jenna Bentley is a triple threat with modeling, acting and hip hop credits under her belt. Ms. Bentley has appeared on hit shows CSI, Law and Order, Entourage and many others. And now, Ms. Bentley is working on her debut hip hop album which she currently writing and producing.
For more information about Jenna Bentley:
http://www.facebook.com/jbmusic101
http://www.twitter.com/jennabentley07
http://www.youtube.com/jennabentley07