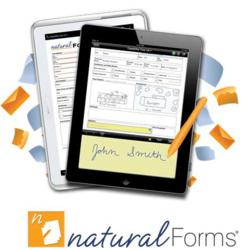 naturalForms removes the inefficiencies of field-based data collection and has the potential to offer substantial productivity improvements and cost savings
LAS VEGAS (PRWEB) January 08, 2013
ExpeData, an innovative software company and a global leader in natural input technologies, will demonstrate the latest solutions for mobile data capture and forms management in booth #35472 at the 2013 International Consumer Electronics Show (CES) on January 8-11, 2013 at the Las Vegas Convention Center.
At the CES show, ExpeData will showcase its next generation naturalForms mobile data capture software platform and applications for both enterprise and SMB audiences.
Leveraging MyScript technology from Vision Objects, the acknowledged market leader in accurate, high-performance handwriting recognition, the naturalForms software platform automates data collection on iOS and Android tablets using natural input capture methods (handwriting, photos, drawings, note taking, electronic signatures, voice, etc).
Data collected is immediately interpreted and validated with business rules and instantly available in standard file formats such as PDF, XML, and JSON. The platform offers a software development kit with a robust set of application programming interfaces enabling straight-through processing to backend systems.
"naturalForms removes the inefficiencies of field-based data collection and has the potential to offer businesses substantial productivity improvements and cost savings," said Paddy Padmanabhan, CEO, ExpeData. "We are excited to bring this disruptive technology to International CES as it is a true game-changer for mobile data capture."
To learn more, visit booth 35472 (part of the Vision Objects exhibit) in the LVCC South Hall 4 at CES or https://naturalformsapp.com.
About ExpeData®
ExpeData, an innovative software company and a global leader in natural input technologies, provides an end-to-end mobile data capture platform that automates the collection of natural input (such as handwriting, photos, notes, drawings, and voice) at the point of entry. Information captured with tablets or other mobile devices is immediately converted to digital data and seamlessly integrated to backend systems. Straight-through processing eliminates cycle time delays, resulting in unsurpassed workflow optimization and significant cost savings. ExpeData's solutions are used across the globe, delivering value in multiple industries. To learn more, visit http://www.expedata.net.
#########
ExpeData, and marks shown with an ® are owned by ExpeData or their respective owners, and registered with the U.S. Patent and Trademark Office. Other trademarks, such as product and service names, found on ExpeData web sites are owned by ExpeData or by third parties. iPad is a trademark of Apple, Inc., registered in the U.S. and other countries. App Store is a service mark of Apple, Inc. Android is a trademark of Google Inc.