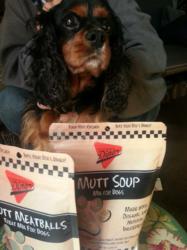 Cleveland, OH (PRWEB) January 08, 2013
Rachael Johnson co-owner of Your Dog's Diner was featured on Daytime NBC on December 12, 2012, where she showed Daytime NBC viewers how to make their cranberry nut muffins, for dogs, known as Mutt Muffins.
The Johnson's started on the web documenting their two rescue dogs' adventures known as 2 Traveling Dogs. Pet lovers soon got a hold of this site like a dog with a bone. While their fan base grew, shining light on the homeless animals across the country issue, so did their dream. They took their love of dogs and cooking to create Your Dog's Diner, so that others can make something special for their four legged family members.
About Your Dog's Diner
Rachael and Nathan Johnson combined a love of dogs with a lifelong love of cooking which is a dream come true. They know customers will enjoy the experience of cooking for their dog and the peace of mind they will have knowing where their dog's treats come from. It's time to "Turn Your Kitchen Into Your Dog's Diner," said Rachael Johnson. http://yourdogsdiner.com/
About Stand Up Pouches
ABC Packaging's stand up pouches are made with multiple layers of film laminated together making the pouch strong and keeping products fresher longer. They protect products from moisture, vapor, oxygen, odor, light, or puncture. Made with ziplocks, tear notches, hanging holes, pour spouts, handles, and if needed gas release valves. Stand up pouches can be made big or small but they will always be a showstopper on the shelf.