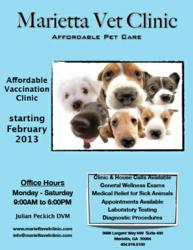 We will provide the highest quality medicine and treatments for pets
Marietta, GA (PRWEB) January 08, 2013
The Marietta Veterinary Clinic, a brand new animal clinic intended to serve pets in the Marietta and Kennesaw area, will open its doors on February 1, 2013. Dr. Julian Peckich, DVM, will be the director and acting veterinarian of the clinic. The Marietta Vet Clinic has made its home at Verde Pointe Professional Offices, across the highway from The Avenue at West Cobb shopping center.
The Marietta Vet Clinic will offer consultations, general wellness examinations, vaccinations, diagnostic lab work, and a host of other services. House calls are available, and each Saturday, an affordable vaccination clinic will be offered. Dr. Peckich plans to expand the clinic to eventually include elective surgeries, radiology, and mass removal.
"I am excited for the Marietta Vet Clinic to open its doors," said Julian Peckich DVM. "Our goal is to focus completely on the health and well being of pets, since pets play such a key and irreplaceable role in families. We will provide the highest quality medicine and treatments for pets."
Dr. Peckich's clinic is the latest practice to join the Verde Pointe Professional Offices, a professional condominium association founded and maintained by Dr. Kirk Kimmerling DDS, cosmetic dentist Marietta, GA. Dr. Kimmerling said he and others at Verde Pointe are thrilled to welcome Dr. Peckich's practice to the neighborhood.
"The Marietta Vet Clinic is a fine practice with the same high standards as the other practices here at Verde Pointe," said Dr. Kimmerling. "We are happy to welcome Dr. Peckich to our Verde Pointe family, and we have faith that he will practice veterinary services of the highest caliber."
The Marietta Vet Clinic will open at 3696 Largent Way NW, Suite 400, off of Dallas Highway in Marietta. Its hours will be Monday-Friday, 9 am to 4 pm, and Saturdays from 8 am to 6 pm. For more information on Dr. Julian Peckich and the Marietta Veterinary Clinic, visit http://www.mariettavetclinic.com.
Kirk Kimmerling, DDS and Suzanna Aguilera, DMD are Marietta cosmetic dentists that are literally paving the way for the future of dentistry. The office is technologically sophisticated in not only equipment and procedures, but also developing dental materials via Kimmerling Holdings Group, LLC and fiteBac SkinCare, LLC, Dr. Kimmerling's biotechnology firms. The office maintains 13 operatories, each of which is equipped with a display monitor on which digital x-rays and intra-oral pictures can be examined, and patient education videos can be viewed. The office also employs highly advanced technologies, including: (1) Logicon, a program that can digitally measure the extent of tooth decay, which allows detection of 20% more cavities and helps prevent misdiagnosis; (2) "Collimators," a conduction of x-ray tube heads that decrease radiation exposure to the patients and staff by 5-fold; and (3) iTero, an advanced restoration impression system and digital scanner that produces more accurate restorations than traditional methods. The overall well-being of each patient can also be improved by adding a DNA salivary test, which allows the office professionals to better determine a patient's specific risk of periodontal disease as well as certain types of oral cancer. The office is the first to use fiteBac SkinCare Germicidal Hand Softening Gel, an advanced hand sanitizer without the harshness to skin from traditional alcohol-based hand sanitizers. Drs. Kimmerling and Aguilera invite new patients to meet their exceptional staff and experience and benefit from state of the art dental care. The office offers a broad range of services from teeth cleaning, teeth whitening to veneers and Marietta dental implants and Marietta root canals. Interested new dental patients may receive a $100 coupon for services on the website by clicking, Marietta