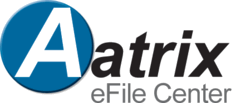 Aatrix shares BGTax Forms commitment to making this full service W-2/1099 eFile solution an optimal resource for their clients.
Grand Forks, ND (PRWEB) January 07, 2013
Aatrix Payroll eFile Center Partners With BGTax Forms
Aatrix Software, Inc., a leading Payroll reports/payments eFile provider announces a strategic partnership with BGTax Forms to provide W-2/1099 eFiling services via the the Aatrix Payroll eFile Center to their customers. The solution will be available to customers using BGTax Forms from their website.
Aatrix Features
The Aatrix W-2 eFiling Service works with virtually any payroll software. Simply use a spreadsheet (CSV or tab delimited file) exported from their payroll software to load their data and eFile your Federal and State copies. Employee copies will be mailed directly to them as well as have them posted to a secure website. Click here to learn more.
Complete W-2 eFile Service

Employee W-2s printed, mailed and posted online for employee access
eFile Federal W-2s and W-3
eFile State W-2s and required reconciliation form
Print Employer copies
Only $2.49 per employee
*Employer copies if printed by user on plain paper
Seamless Integration
Steve Lunseth (Aatrix CEO) commented that, " EFiling is more than just a trend it is now an essential business tool. Aatrix shares BGTax Forms commitment to making this full service W-2/1099 eFile solution an optimal resource for their clients."
This partnership adds a significant to the number of businesses that utilize the Aatrix solution. Aatrix State & Fed Payroll Reports is currently in use by more than 265,000 businesses. An estimated 20 million W-2s are printed or eFiled using the Aatrix solution.
BGTax Forms Software, Inc
Tax forms can be complicated and difficult to understand. With over six decades of real industry experience, we are here to help. BG Tax Forms is an extension of Beene Garter that will provide even more business solutions with the same commitment to service that you have come to expect.
Our products are guaranteed to be compliant with federal requirements. Because we believe in open and honest communication with our customers, our team will inform you of any changes that have been made and send you replacement products at no additional cost.
Aatrix Software, Inc.
Located in Grand Forks, ND, Aatrix Software has been developing innovative accounting software solutions since 1987. Originally founded to develop Macintosh accounting and payroll applications, Aatrix's Electronic Forms Division has established itself as a leader in payroll tax forms for Windows®. Aatrix provides Electronic Payroll Reports and eFiling for Windows® accounting software. Aatrix's finance software has received numerous awards, including Software Digest's highest overall rating and Home Office Computing Editor's Pick.