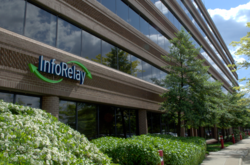 ... This initiative will allow to clients to fully utilize the benefits of InfoRelay's highly-optimized, multi-homed network...
Herndon, VA (PRWEB) January 09, 2013
Washington, DC-Based Broadband Provider Allied Telecom Group announced Tuesday, a new partnership with Herndon, Virginia-based data center solutions firm InfoRelay Online Systems Inc. The two companies plan to leverage this partnership to provide high-speed Internet connectivity to DC-area businesses via dark fiber and lit fiber infrastructure solutions.
Allied Telecom Group, a leading Mid-Atlantic Internet Service Provider, delivers enterprise connectivity over Optical Fiber Infrastructure. The DC-based firm, founded in 1990, also offers a suite of Voice over IP Solutions, Managed Network Solutions, and Dedicated Internet Services. Allied Telecom's, VP of Sales, Geri Sullivan explains, "We provision Dynamic Metro Ethernet™, next-generation optical fiber, which hosts multiple services such as Data Transport, Voice over IP, and Internet Access simultaneously, while ensuring Quality of Service (QoS). "
According to Allied Telecom, the company began widely installing physical broadband connections for Washington area Enterprise Customers as early as 2005, prior to any other local ISPs. Other key markets served include, but are not limited to Federal, State, Local governments, Not-for-Profit, Commercial Real Estate and Educational Institutions. Allied Telecom's Strategic Sales Manager, Ray Traylor, explains "Offering point-to-point connectivity to clients that require access to InfoRelay's data centers was the natural evolution of our partnership. Mid-Atlantic area businesses that are heavily reliant upon broadband connections for mission-critical applications now have the ability to leverage Allied's superior Metro Ethernet Network to access InfoRelay's top-notch data center solutions." The cooperative deployment from Allied Telecom and InfoRelay includes Gigabit Ethernet, Fibre Channel, and 10 Gigabit Ethernet capabilities over redundant network architecture.
The partnership with Allied Telecom to offer Metro Ethernet was finalized on January 4th, 2013. "InfoRelay was looking to enhance physical Metro Ethernet connectivity between its network and businesses in the DC, Maryland and Virginia area -- this allows our colocation clients to have private, direct connectivity between the data center and their office locations," InfoRelay Account Executive Courtney Ashby explained. "We're excited to deploy the new Dynamic Metro Ethernet™; this initiative will allow to clients to fully utilize the benefits of InfoRelay's highly-optimized, multi-homed network, which delivers low latency and full redundancy. Now our network is not just in the data center; it can be extended directly to the offices of our clients."
About Allied Telecom Group
Allied Telecom Group, founded in 1990, is the region's most highly regarded and respected network service provider. Based in Washington, D.C. and serving the Mid-Atlantic and Northeast Corridor, we're a single-source provider of Internet, data transport and voice services. We support businesses, non-profits and public-sector clients. And for over 20 years, Allied Telecom has been distinguished by our exceptional, full-service care we provide to every client — no matter how big or small.
About InfoRelay Online Systems, Inc
InfoRelay Online Systems, Inc., founded in 1995, is a leading national colocation provider with value-added services designed to alleviate the strain on IT budgets while providing superior customer support. The InfoRelay network is made up of a robust Internet carrier blend, world class SSAE 16 Type II data centers, a portfolio of network and data products, a wealth of in-house technical knowledge, and a passionate support team. The InfoRelay network is home to hospitals and other healthcare firms, federal and state government entities, legal services, non-profit, and e-commerce platforms.