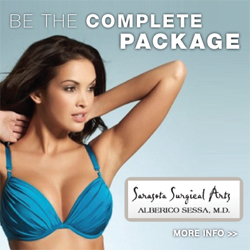 This has been an incredible year for my practice. I am very humbled and grateful to be recognized again. Nothing is more important than earning my patients' trust. -Dr. Alberico Sessa
Sarasota, Florida (PRWEB) January 09, 2013
"This has been an incredible year for my practice. I am very humbled and grateful to be recognized again," commented Alberico J. Sessa, M.D. "Nothing is more important than earning my patients' trust. It's incredibly flattering when a patient sends in a friend or family member for a consultation. For example, I recently had the privilege of performing a facelift on a gentleman whose wife underwent the same procedure 2 months ago. They both look terrific & are very happy with their results!"
Dr. Sessa credits this achievement to meticulous attention to detail and an artistic eye. He believes his intensive training in cosmetic surgery during his American Academy of Cosmetic Surgery accredited fellowship is the platform from which his expertise and experience have built upon. He is board certified in body and extremity cosmetic surgery as well as facial cosmetic surgery. "My patients are able to address any cosmetic issue they are concerned with, be it a sagging jowel or jawline to breast augmentation or liposuction," notes Dr. Sessa.
Alberico Sessa, M.D. , practicing in Sarasota Florida, says that he absolutely must share this award with his incredible staff. "I am very blessed to have such great people to work with and I have to give some of the credit to the Sarasota Surgical Arts team. They take excellent care of my patients and treat them like family."
Dr. Sessa's reception desk displays many thank-you cards from his patients. "Dear Dr. Sessa, Thank you for helping me to feel more beautiful. My quality of life and self-esteem will be very much improved by your skill to help turn back the clock. Growing older is definitely not for the faint of heart. I feel so much better about how I look and feel. Thanks for your amazing work! Sincerely, T.V," remarks a grateful patient. After reading a few of the personal notes written within these cards, it is easy to comprehend how Dr. Sessa was voted as the 2012 Patients' Choice Award recipient.