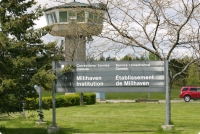 MSGI is the number one supplier to Correctional Service Canada for security integration
Ottawa, Ontario (PRWEB) January 11, 2013
Marcomm Systems Group Inc. (MSGI), the industry leader in advanced security and control systems, was recently awarded a security contract with Millhaven Penitentiary to upgrade the internal Closed Circuit Television (CCTV) system, extending a continued relationship between MSGI and Correctional Service Canada.
"MSGI is the number one supplier to Correctional Service Canada for security integration," said Dave Trudel, President of MSGI. "To date, MSGI has installed advanced security systems in over 40 correctional institutions, including every medium and maximum Federal institution in Canada."
The announcement comes on the heels of several new contracts, including multiple Private Public Partnership (P3) projects, totaling $15 million worth of new business. Among these projects, MSGI is currently contracted to install the integrated electronic security systems in the new South West Detention Centre in Maidstone, Ontario; the new Forensic Services and Coroner's Complex in Toronto; the Thunder Bay Consolidated Courthouse, currently under construction; and the Quinte Consolidated Courthouse in Belleville.
"Central to all of these installations is the software that we developed back in the mid 1990s and are now re-developing called Dynatrol," explained Trudel. This security systems integration software, also referred to as Facilities Systems Integration Software, was developed to create data interfaces to other sub-systems within buildings, whether it is a card access system, an intercom system, a public address system, a perimeter fence detection system, a wireless locating system for people or a door control system for prisons. The challenge here is typically all of these various systems are not able to communicate with one another, but the Dynatrol software serves as the base unit for each system to communicate with and even includes touchscreen technology, literally putting the entire building's security system at the user's fingertips.
Other P3 projects include a security project for the Department of National Defence's new medium-heavy lift helicopter hanger in Petawawa, Ontario; and the Point Lepreau Nuclear Generating Station security refurbishment in New Brunswick, proving MGSI's ability to excel in large, complex systems.
About Marcomm Systems Group Inc.
Since its establishment in 1991, Marcomm Systems Group Inc. has focused on the design, supply and installation, testing and commissioning of electronics based security and control systems.
Over 500 copies of Dynatrol, MSGI's leading-edge security systems integration software, are currently installed in Federal and Provincial prisons, courthouses, DND facilities, water filtration plants, commercial and industrial buildings and currency printing facilities. For more information, visit http://www.msgi.ca.