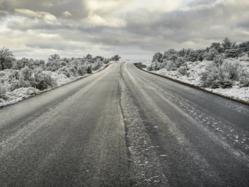 Make sure your vehicles are prepared; and consider getting a winter tune up by adding anti-freeze to the radiator and possibly switching to winter weight oil. -- Mark Jansen, VP of Loss Control
Fort Lauderdale, FL (PRWEB) January 10, 2013
At the beginning of each winter season, it's a good idea to review driving in adverse conditions with your drivers as a means to ensure safety and loss control within your organization. The best precautions are to avoid driving in poor weather if at all possible. Knowing this may not always be feasible, drivers should know how to handle adverse road conditions.
"Make sure your vehicles are prepared; and consider getting a winter tune up by adding anti-freeze to the radiator and possibly switching to winter weight oil. Equip the vehicles with emergency supplies such as blankets, a shovel, drinking water, flares, and sand," said VP of Loss Control at Contego Services Group, Mark Jansen.
When driving on icy roads:

Decrease your speed and allow additional room to stop. One rule of thumb is to allow three times the distance to stop on icy roads.
To avoid skidding brake gently and if your wheels start to skid, ease off the brake pedal.
Keep your headlights and windshield clean and leave your lights on to increase visibility.
Use lower gears especially on hills to improve traction.
Take additional caution on bridges and overpasses which typically freeze first.
Obey all speed limits and slow down during turns and bends in the road.
If your rear wheels begin to skid:

Take your foot off the accelerator.
Steer in the direction you want the car to go.
If you have standard brakes, pump them gently.
If your vehicle is equipped with anti-lock brakes, apply pressure to the brake pad gently and do not pump them.
If your front wheels begin to skid:

Take your foot off the gas pedal and shift the car in to neutral but don't try to immediately steer the vehicle.
As the front wheels skid sideways the vehicle will slow down and traction will return. At this point steer the car in the direction you want it to go and gently put the transmission in gear.
If your vehicle should get stuck:

Avoid spinning the wheels as this will dig the vehicle in deeper.
Turn the wheels side to side as this will help to push the snow out of the way.
Ease the vehicle out by using a light touch on the accelerator.
Use a shovel to clear snow away from the wheels. Placing sand, kitty litter or salt in the path of the wheels can help with traction.
Sources: National Safety Council, New York State Department of Motor Vehicles, Washington State Government Information and Services and The Weather Channel.
Contego Services Group, LLC provides game-changing insurance services and cost containment solutions. Services include Investigative Services, SIU & Fraud Detection, Subrogation, Due Diligence, Loss Control, and Transportation & Translation. For additional information on Contego Services Group please visit http://www.ContegoServicesGroup.com or contact Jessica Custer at 954-556-1616.