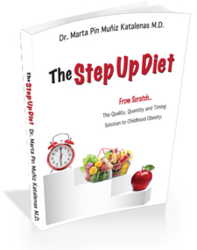 By focusing on one step at a time, healthy lifestyles and habits become less overwhelming and more manageable.
Austin, TX (PRWEB) January 08, 2013
Many times, by the second week of January, New Years Resolutions have been long forgotten. Dr. Marta Katalenas challenges families to make 2013 different by creating healthy New Years resolutions as a family to ensure a higher success rate.
Dr. Katalenas offers these 5 tips for creating achievable New Years resolutions that will make families healthier in 2013.
1- Keep it Simple and Realistic
Find a common goal that all your family members are interested in achieving. Make sure it's something that can be reasonably done. Suggestion: Eat more homemade meals at home.
2- Make it Specific. Avoid sweeping generalized resolutions. Unspecific goals are very difficult to define, and are thus even harder to keep. Suggestion: Stop buying processed foods at the grocery store.
3- Set Short-Term Goals and Rewards. Make sure to celebrate good behavior by finding a healthy way to reward the family. Suggestion: Go on a picnic or make cookies with your kids.
4- Talk to Each Other Often. By asking about and talking about your resolution with your family, you'll create a crucial support system. Suggestion: Discuss the concept of "quality, quantity, and timing" often.
5- Expect Small Setbacks
The reality is that we will all falter in keeping our resolutions. It's important to encourage each other to get back on the right path.
in her book, The Step Up Diet. From Scratch...The Quality, Quantity, and Timing Solution to Childhood Obesity, Dr. Katalenas provides a step-by-step plan that families can follow to teach the body and brain to recognize healthy food, and to establish a healthy eating schedule.
By focusing on one step at a time, healthy lifestyles and habits become easier to implement into a family's daily routine. She teaches her patients to use the QQT (Quality-Quantity-Timing) method to create healthier habits for the entire family.
Marta Katalenas, M.D. is a pediatrician and the owner of The Pediatric Center of Round Rock. She is a public speaker on the issue of childhood obesity, and author of The Step Up Diet. She believes that by making one small change at a time, families can become healthier by following the QQT method. Learn more at drkatalenas.com.