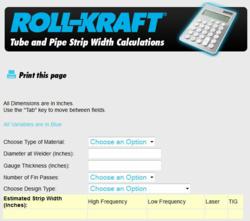 Mentor, OH. (PRWEB) January 10, 2013
Roll-Kraft has upgraded the tube and pipe strip width calculator that is available on roll-kraft.com. It is now possible to execute calculations directly from a web browser or mobile device, without having to download any files.
Often, questions arise about tube and pipe sizing and the new strip width calculator is a simple way to get the information quickly. The website features two calculator functions. One calculates the width of the strip that goes on the mill. The other calculates square and rectangular tube and pipe equivalents for round tube. Each calculator provides useful estimates that will be of benefit to tube and pipe manufacturers. Simply enter the various criteria required for the calculation, such as dimensions and type of material, to obtain the information needed.
Customer service is a priority for Roll-Kraft. This feature is just one of the ways Roll-Kraft focuses on meeting the needs of the industry and has contributed to the reputation of the company being known as a solutions provider.
Roll-Kraft has its headquarters in Mentor, Ohio, and maintains other facilities in Frankfort, Illinois (Roll-Kraft Northern), and Ontario, Canada (Roll-Kraft Ltd.). The company phone number is (888) 953-9400 or (440) 205-3100, and the fax number is (440) 205-3110. The web site is at roll-kraft.com. For easy and immediate contact with Roll-Kraft that transcends time zones and working hours, the website features Dr. Resolve. Simply complete and submit an on-line form and Roll-Kraft will respond.