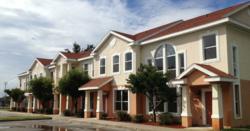 FHP has long searched for a housing product that would serve the Plant City market...
Ruskin, FL (PRWEB) January 08, 2013
In addition to developing six master planned communities and building over 550 homes, Florida Home Partnership, Inc., a nonprofit home builder and developer, is expanding its operation to include an 80 unit townhouse development in Plant City, Florida.
On Friday, January 11, Hillsborough County Commissioners will join the staffs of Hillsborough County Affordable Housing Services and Florida Home Partnership (FHP) in a ribbon-cutting ceremony to celebrate the opening of Alexander Woods Townhomes (273 Alexander Woods Drive). The ceremony will take place at 10 a.m. and will be followed by a tour of the new units and model home.
Earl Pfeiffer, the Executive Director of FHP, exclaimed, "We are extremely excited to begin our third decade of service to the community by providing a new product in a new market segment. FHP has long searched for a housing product that would serve the Plant City market, and we feel confident that Alexander Woods Townhomes is such a product."
The development was recently acquired by FHP through the County's Affordable Housing Services Neighborhood Stabilization Program (NSP). The townhomes are a mix of two and three bedroom units priced from the $80's for qualified homebuyers. The development has 14 townhomes currently available. Sixty-six more units will be built with ten additional units ready by midyear, and the final fourteen units will be completed by year's end.
The existing units feature high ceilings and upscale amenities such as ceramic flooring and granite counters for some kitchens. All newly constructed units will be Energy Star certified and Green Built along with the inclusion of appliance packages, upgraded flooring and 9-foot ceilings. A swimming pool is currently under construction with a community center in the permitting process. A playground and picnic area will complete the community's amenity package.
Through the NSP, Hillsborough County received $19 million to purchase and redevelop abandoned or foreclosed properties, like Alexander Woods Townhomes, to create affordable, safe homes and remove blight from neighborhoods. The funds invested in the community have brought significant economic impact to local businesses.
For more information or interviews about FHP, contact Joey Henderson at 813.672.7860 or email him at Joey(at)flhome(dot)org.
# # #
About the Florida Home Partnership
Florida Home Partnership (FHP) is a non-profit Community Housing Development Organization (CHDO) that offers affordable homeownership opportunities to low and moderate-income first-time homebuyers. Utilizing the USDA Mutual Self-Help Housing Program (SHOP), the government program began over 40 years ago, and mirrors the "barn raisings" of the Quakers with neighbors helping neighbors to build their homes together. FHP also receives funding from the Housing Assistance Council (HAC), County and State programs. FHP provides participants with guidance and tools. No construction experience is necessary. This program is ideal for families with limited income who desire homeownership in rural communities. For more information about the program, call 813-672-7860 or visit http://www.flhome.org, friend us at - http://www.facebook.com/Floridahome, follow us at - @flhome1.