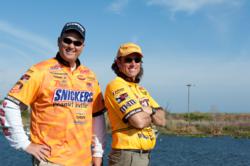 MINNEAPOLIS, Minn. (PRWEB) January 09, 2013
FLW announced today that Mars Chocolate North America has extended their sponsorship throughout the upcoming 2013 season with the world's largest tournament-fishing organization. Financial terms of the deal were not disclosed.
The Mars Chocolate North America brands that will continue to be featured by FLW include M&M'S® and SNICKERS®, as well as the addition of the TWIX® brand to the stable of Mars anglers. The brands will be featured across FLW's multiple platforms, including its tournaments and Expos, multiple websites, FLW Bass Fishing magazine and the "FLW" television show on NBC Sports Network. "FLW" is broadcast Sundays in high-definition (HD) on NBC Sports Network to more than 559 million households worldwide, making it the most widely distributed weekly outdoors-sports television show in the world.
Three of the most consistent anglers on the Walmart FLW Tour will be representing Mars Chocolate North America as brand ambassadors in 2013. Jim Moynagh of Carver, Minn., who finished 2012 ranked third in FLW Angler of The Year standings, will again be representing the M&M's brand. Chris Baumgardner of Gastonia, N.C., who had two top-10 FLW Tour tournament finishes in 2012, will once again represent Snickers. Jonathan Newton of Rogersville, Ala., will join the Mars team and represent the Twix brand. Newton has more than $530,000 in career winnings in his nine years as an FLW Tour professional.
ABOUT FLW
FLW is the industry's premier tournament-fishing organization, providing unparalleled fishing resources and entertainment to our sponsors, fans and host communities. FLW is offering anglers of all skill levels the opportunity to compete for millions in prize money nationwide in 2013 over the course of 220 tournaments across five tournament circuits, four of which provide an avenue to the sport's richest payday and most coveted championship trophy – the Forrest Wood Cup. FLW is committed to providing a lifestyle experience that is the "Best in Fishing, On and Off the Water," through a variety of platforms including tournaments, outdoor expos and FLW Fantasy Fishing. For more information about FLW and FLW Fantasy Fishing, visit FLWOutdoors.com or FantasyFishing.com and look for FLW on Twitter, Facebook, Pinterest and YouTube.
ABOUT MARS CHOCOLATE NORTH AMERICA
In 1911, Frank C. Mars made the first Mars candies in his Tacoma, Wash., kitchen and established Mars' first roots as a confectionery company. In the 1920s, Forrest E. Mars Sr. joined his father in business and together they launched the MILKY WAY® bar. In 1932, Forrest Sr. moved to the United Kingdom with a dream of building a business based on the objective of creating a "mutuality of benefits for all stakeholders" – this objective serves as the foundation of Mars, Incorporated today. Based in McLean, Va., Mars has net sales of more than $30 billion, six business segments including petcare, chocolate, Wrigley, food, drinks, Symbioscience, and more than 70,000 Associates worldwide that are putting its Principles into action to make a difference for people and the planet through its performance.
Mars brands include: Petcare – PEDIGREE®, ROYAL CANIN®, WHISKAS®, KITEKAT®, BANFIELD® Pet Hospital and NUTRO®; Chocolate – M&M'S®, SNICKERS®, DOVE®, GALAXY®, MARS®, MILKY WAY® and TWIX®; Wrigley – DOUBLEMINT®, EXTRA®, ORBIT® and 5™ chewing gums, SKITTLES® and STARBURST® candies, and ALTOIDS® AND LIFESAVERS® mints. Food – UNCLE BEN'S®, DOLMIO®, EBLY®, MASTERFOODS®, SEEDS OF CHANGE® and ROYCO®; Drinks – ALTERRA COFFEE ROASTERS™, THE BRIGHT TEA COMPANY™, KLIX® and FLAVIA®; Symbioscience – COCOAVIA™, WISDOM PANEL™ and SERAMIS®.
For more information, please visit http://www.mars.com.