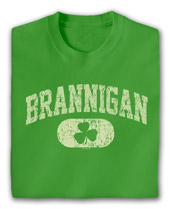 We give folks a unique way to show off their heritage and to celebrate their family's roots.
Grove City, Penn. (PRWEB) January 09, 2013
Ink Pixi, the environmentally and socially conscious designer of personalized apparel, has announced a new way to shop their Irish-themed line of customizable products, with a new dedicated section on their site. These lighthearted-but-heartfelt designs are the company's tribute to proud Irish traditions—a special gift to commemorate St. Patrick's Day.
One of the newest offerings features the Irish Shield, available as a T-shirt, long-sleeve shirt, sweatshirt, embroidered hat, and more. Other options include a depiction of the classic Leprechaun, complete with his top hat and pipe. Additional new offerings include "Kiss Me, I'm [your name here]" (with the lucky shamrock), the family Irish pub and a family brand of single malt Irish whiskey. Also available are Celtic crosses and pints of Guinness, Irish flags and simple shamrocks. As with all of Ink Pixi's products, each item proudly displays whatever text the customer desires. This makes InkPixi.com your very own custom-designed clothing store.
"We enjoy honoring our Irish customers on this special day," said James Witmer, retail marketing director at Ink Pixi. "And, of course, those who just wish they were Irish. We give folks a unique way to show off their heritage and to celebrate their family's roots. Our customized clothing is perfect for family reunions, celebrations or an unusual gift. It's also a surefire way to stand out at the pub on St. Paddy's Day."
For the latest news, special offers and announcements, visit their blog. More information about Ink Pixi's Ethnic Pride line of products is available on their website. You can also find them on Facebook.
About Ink Pixi
Ink Pixi is a personalized shirt and hat company with a quirky sense of humor and a good conscience. Their company mission is to "be good to our customers, be good to each other, be good at what we do, and be good to the Earth." To these ends, they buy their blank clothing from an environmentally sustainable, socially responsible company, and do all of their own printing. You can read more about their social commitment on their About Us page.