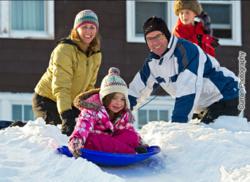 Statewide, VT (PRWEB) January 09, 2013
Ski Vermont is excited to offer its $29 Learn to Ski and Ride Month promotion once again and boast its participation in Winter Trails Day on Saturday, January 12, 2013, which offers Nordic skiing and snow-shoeing promotions.
Here is a list of January highlights including MLK Holiday fun:
Stratton Mountain Resort
The Martin Luther King, Jr., Holiday is famous at Stratton for its plentiful snow and fun for families. This year is no different, with free afternoon music in Grizzly's, free hot cocoa and sugar on snow, games and trivia, and quintessential winter activities including ice skating, snowshoeing, tubing and more. Visit http://www.stratton.com to find activities and savings for the whole family of winter lovers.
Mount Snow Resort
Monday, January 14 is Grommet Jam #2 for young skiers and riders age 12 and under to get 90 minutes of instruction from Mount Snow freestyle coaches on how to properly and safely enjoy small freestyle features. A friendly competition follows with winners going home with gear from event sponsors. Registration and information is available online at http://www.mountsnow.com.
Bromley Mountain
PHAT (Protect your Head at All Times) Day at Bromley on January 19th offers Free Helmet Rentals, and a raffle for 5 KidsRule helmets. See why helmets are the only way to ski & ride!
As if a $49 ticket wasn't good enough, ski or ride Bromley on Monday, January 21, and save the used MLK Day lift ticket. It's good for $10 off a next weekend or Holiday All-Day Ticket! $49 lift ticket available with printed E-Coupon only, $10 off good only with returning MLK Madness tickets. Download your e-coupon today at http://www.bromley.com/ecoupons!
Okemo Mountain Resort
With MLK Weekend ahead, Okemo is ready to welcome families with a great multi-day deal on lift tickets. When skiers and riders purchase lift tickets online at Okemo.com, at least 48 hours in advance, they can celebrate the life of Dr. Martin Luther King Jr. with a special three-day lift ticket, valid January 19, 20 and 21, for just $185 for adults (a $61 savings); $160 for young adults (a $56 savings); and $125 for juniors (a $43 savings). Additional Online deals are available throughout January at http://www.okemo.com/activities/snowsports/ticketing/deals/onlinedeals.asp.
Bolton Valley Resort
The famous Bolton After Dark returns this season, where every Saturday night lift tickets are just $19 from 4-8 p.m. Inside the lodge, Fireside Flatbread offers up $2.00 flatbread slices and $2.00 sodas or PBR drafts. At 8 p.m., watch a free showing of a ski or snowboard movie - a great way for the whole family to enjoy after dark hours together. For parents with little tykes, Bolton Valley has introduced new Ski and Play Days, where on Wednesdays, parents can ski or ride with a full day lift ticket AND receive a full day of daycare for their child for just $79, a savings of 40% off the retail rate. Call 802.434.6866 for details.
Smugglers' Notch Resort
For the Martin Luther King, Jr. holiday weekend, Smugglers' lowest rates start at $85 per youth and $115 per adult per night apply to stays of five nights or more, with arrivals January 16-20, 2013. The resort offers a ski-and-stay package featuring children's snowsports instruction, and a package including on-snow instruction for the entire family. Each package includes mountainside condominium lodging; lift tickets; use of the indoor pool and hot tubs; access to Nordic ski and snowshoe terrain; snow tubing; ice skating; use of the FunZone and teen centers; and family and adult entertainment. Call 855-814-7325 for reservations.
Sugarbush Resort
There is no better time to visit Sugarbush then the Martin Luther King, Jr. holiday weekend. Sugarbush has a great line-up of events that pack fun for the whole family including: A Torchlight Parade and Fireworks, Kids Pizza and Movie Night, Family Italian Dinner Night; live music for après-ski and much more. Ski & Stay lodging packages and a complete list of events are available at sugarbush.com or by calling 800.53.SUGAR.
Mad River Glen
Watch ripping young competitors fight for the win this month as Mad River Glen hosts the Junior Unconventional Terrain competition on January 12, 2013. The competition starts at 11am, and includes skiers 13 and younger. Top finishers will qualify for the Triple Crown Unconventional Terrain competition and the Ski the East Freeride Tour.
Stowe Mountain Resort
Stowe Mountain Lodge offers an abundance of activities to participate in over MLK weekend. Saturday and Sunday are host to:

The Recess program from 12-2pm - Join the SML fitness team and learn how to work out, get in shape and stay healthy as a family
Movie Time at 4 pm - Snuggle up in a bean bag chair and fill up on free popcorn while watching favorite films on the big screen.
Bear Factory at 4pm - Create a personal stuffed polar bear, penguin, and other fun winter animals while also designing a t-shirt just for your new friend. Fill out a birth certificate to take home too!
Laser Tag in the Hotel! at 6pm - Come see how fun indoor laser tag can be at SML.
Killington Resort
Fun-filled sliding under the lights? Look no further than the Killington Tubing Park. Located on East Mountain Road across from the Killington Grand Resort Hotel, the multi-lane, lift-serviced park has good times for all ages, right at the heart of the resort. Looking to warm up? Step inside for a pick-me-up at the all-new Parkside Pizza Pub. They'll be serving up hand-tossed pizzas, family-style pasta, and hearty warm snacks and drinks to round out the evening.
For a full list of January deals and events, please visit: http://www.skivermont.com/about-us/press-room/press-release/id/480