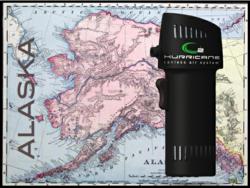 "Exposure can lead to short and long-term health effects including damage to the nervous system, kidneys or liver."-Michael J. Coffee, Alaska Depart of Transportation and Public Facilities on immediate ban of canned air products.
Scottsdale, AZ (PRWEB) January 15, 2013
When the call came in from Fairbanks, Alaska the 02 Hurricane Team wasn't surprised. Alaska is mandating agencies to eliminate canned air immediately. The state needed a replacement and chose the 02 Hurricane Canless Air system.
In a directive from Michael J. Coffee, Chief of Statewide Operations, Alaska Department of Transportation and Public Facilities, "The purchase, use, storage or handling of ANY product containing a chlorinated compound is prohibited by the department."
"They call it canned air," says 02 Hurricane CEO and Founder John Scherer. "But when you read the label you see it's anything but air. It's a dangerous, explosive and deadly mix of gasses and liquids."
The State of Alaska ordered the 02 Hurricane because it needed a safe and sustainable alternative to canned air.
"Canned air has a useful life-cycle of around a minute. Then it's done. What's left is classified by the EPA as hazardous waste," says Scherer. "The stuff is dangerous to the environment, workers and the bottom line. To their credit, the good folks in Alaska have recognized this and acted."
The 02 Hurricane takes in outside air, then blasts it out at hurricane force to clean dust wherever it gathers. Because it uses just air, there are no problems with residual chemicals to damage computers and other electronics. The unit can be recharged up to 500 times.
"Just one 02 Hurricane is equal to a thousand cans of so-called air," Scherer says. The math speaks for itself. "You start saving money and the environment the minute you buy it. You go green and save green. Your employees, CFO and the planet will thank you."
Scherer adds a growing number of government agencies, businesses and homeowners are ditching the can for the 02 Hurricane. "Word is getting out that canned air is dangerous, harmful and just a plain waste of money. They're discovering the 02 Hurricane as a clean/green alternative."
Scherer adds, "We knew we had a winner when we went to market," Scherer says. "But it's the testimonials that prove it."
Assembled in Tucson, Arizona by American Workers, the company is headquartered in Scottsdale.
Follow the 02 Hurricane Canless Air System on Facebook and Twitter.
Media Contact:
Brian Olson
Conversation Starters Public Relations
brian(dot)olson(at)starttheconversations(dot)com
303-726-4044