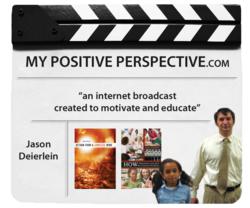 My Positive Perspective and Kinetic Hifi are going to try and help all of Charleston's musicians.
charleston, SC (PRWEB) January 08, 2013
On January, 8, 2013,My Positive Perspective will broadcast their first radio show. Throughout the first season Deierlein will be joined by musicians Adam Seigler and Estee Gabay. When asked about how the three came together, Deierlein says, "I have been friends with Seigler for a while and enjoyed incorporating some of his music in Season one of My Positive Perspective. Eventually I was asked to see one of his friends, Estee Gabay play. When I first saw her, I knew she had tons of talent as a musician." As a matter of fact, Gabay has been nominated as the Charleston's best female musician.
The trio's first major interview comes later this week when car accident and coma survivor, Nick Collins, will phone in and discuss his rehabilitation process. Collins is going through an important part of his recovery and will need to keep in mind the importance of the next few weeks. Deierlein says, "The recovery process is long, but for Nick the therapy is probably going to be intense for a few weeks. That is because he will try to recover abilities rapidly now because he has a window now with no impending surgeries. Taking advantage of this and using it to improve will help his psyche and moral a great deal."
The My Positive Perspective radio show is expected to mention speak about Collins's band, Fowler's Mustache, and the group's appearance on Kinetic Hifi radio. One of the band's shows will be broadcast live on the radio. On making this happen, Deierlein says, "We would like to feature at least one show a month by broadcasting them on the internet radio station. Charleston has a vast amount of musical talent, and My Positive Perspective and Kinetic Hifi radio are going to try to help all of our musicians.
My Positive Perspective is an internet talk show created for the purposes of overcoming adversity. We educate and inspire in many different ways and talk about different types of obstacles, but the ultimate goal of this business is to spread positively and strengthen wherever there is a weakness or tragedy to overcome. I myself survived a car accident, coma, and painful rehabilitation. I consider myself lucky to be here and providing the public with this free service. This company is kind of my gift to myself for achieving. The one thing you never lose after surviving a tragedy is desire to help.
http://mypositiveperspective.com/