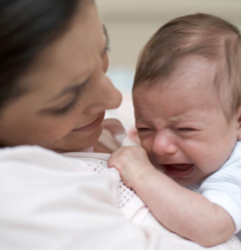 Long Beach, California (PRWEB) January 09, 2013
Colic Calm, provider of homeopathic healthcare products for infants and children, recently conducted a study of more than 2,000 parents whose children had suffered from colic. The study revealed crying is the most common symptom in infants, with the consistency of crying outbreaks being a significant factor.
Created by TJL Enterprises, Colic Calm, also known as "gripe water," provides relief for symptoms of gas and reflux in infants without harmful chemicals or side effects. As TJL Enterprises' Jacqueline Lawrence points out, research has shown that mothers of children suffering from colic are more likely to suffer from depression. The emotional exhaustion created by trying to soothe a consistently irritable infant can easily take a toll on a new mom, Lawrence explains.
"Mothers are often filled with self doubt and guilt about their basic abilities to nurture and provide comfort for baby with colic," Lawrence states. "It can be especially difficult for parents to stop themselves from wondering if they are doing something wrong."
To better help parents, TJL Enterprises has compiled the results of its study on colic symptoms. As Lawrence tells us, parents can find some measure of comfort in knowing other parents have gone through the same thing. The study found nine common symptoms:
1. 100% of parents of infants with colic reported long periods of inconsolable crying.
2. 77% reported the crying begins around the same time each day.
3. 70% reported that crying follows meals.
4. 92% reported that symptoms end abruptly, without warning.
5. 62% reported that symptoms end after the infant either passes gas or has a bowel movement.
6. 46% reported that babies suffering from colic spit up often.
7. 74% reported that infants show symptoms of gas, including a hard, distended stomach or other signs of abdominal bloating.
8. 90% state that during an episode, an infant will arch his or her back, pull his or her knees up toward his or her chest, clenches fists, and/or flails his or her arms and legs.
9. 83% report a disruption in sleep patterns.
Lawrence adds that inconsolable crying is part of pediatrician Morris Wessel's definition of colic. Wessel was a respected pediatrician and Yale Medical School clinical professor who created the definition of colic used by many doctors today. He defined colic as a healthy baby who has unexplained crying that lasts more than three hours per day, more than three days per week, lasting more than three weeks.
Lawrence points out the low percentage of parents reporting spit up as a symptom of colic in babies. Some pediatricians are attributing some cases of colic to reflux, but spitting up is common in babies, Lawrence states, and not necessarily a factor in colic.
Now widely used in the U.S. and throughout the world, Colic Calm is available in many major drugstores and retail locations. TJL Enterprises states that the homeopathic remedy has helped more than 500,000 babies find relief from colic symptoms. For more information about Colic Calm, visit http://www.coliccalm.com/.
# # #