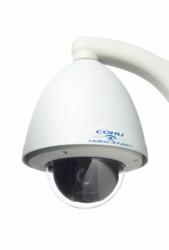 We're pleased to offer this feature-packed HD dome camera, including 30x zoom, low light sensitivity, EIS and defog image enhancement, all at a compellingly affordable price point.
Poway, CA (PRWEB) January 10, 2013
Cohu, Inc. (NASDAQ:COHU) today announced a new video surveillance solution from its Cohu Electronics Division.
Cohu's 3720HD Series provides high-definition 720p30 video with 30x optical zoom power, delivering full frame rate HD images over the entire optical range. The 3720HD dome camera offers three times the low light sensitivity of first generation Helios™ HD cameras. True day/night technology using a removable IR cut filter produces exceptional sensitivity down to 0.005 lux. The increased zoom magnification to 30x offers more than one and one-half times the previous 720p 18x technology, resulting in dramatically improved imaging performance to see and identify objects at greater distances.
In addition, advanced image processing capabilities compensate for vibrations or movements of the camera using an advanced Electronic Image Stabilization algorithm. Finally, Cohu's real-time Defog capability produces enhanced images in obscured haze and foggy conditions commonly encountered in surveillance and traffic monitoring applications. The image processing measures each pixel for fog thickness and enhances contrast to deliver an improved image.
The 3720HD Series dome camera includes a variable high-speed pan and tilt drive, with 360° continuous pan and +0 to -90° tilt. Fast positioning speeds result in 180° movements in less than two seconds. Providing multiple video stream capability, the 3720HD delivers two independently configured H.264 streams or an H.264 with MJPEG. The 3720HD operates on either 24Vac or PoE+ (Power over Ethernet) inputs.
The 3720HD provides a full function web server, allowing complete administrative and operator control capabilities. Administrative features include configuring network settings, user password assignments, setting video streaming properties, configuring camera imaging properties, defining presets and tours, and assigning camera ID labels.
The 3720HD is designed to operate in harsh weather with its IP66 enclosure protection. This minimizes the effects of water intrusion, pollutants and corrosives. The 3720HD will deliver years of clean, reliable images and is backed by a two-year limited warranty.
All Helios HD cameras provide integration with third party Video Management Systems (VMS), adhering to industry interoperability standards for video streaming specifications, ONVIF and NTCIP 1205 configuration and control interfaces.
"We're very excited to broaden our Helios HD camera line with the release of the 3720HD Series," said Tom Kampfer, President of Cohu's Electronics Division. "We're pleased to offer this feature-packed HD dome camera, including 30x zoom, low light sensitivity, EIS and defog image enhancement, all at a compellingly affordable price point."
The 3720HD dome camera is immediately available for order.
About Cohu Electronics
Cohu, Inc., Electronics Division is a leading manufacturer of video surveillance camera systems for use in mission-critical, sensitive environments. Integrating the latest video compression and High-Definition IP technology into its innovative, rugged video cameras systems, Cohu's line of high quality HD cameras, transmission equipment and management software can be found on the international space station, monitoring the busiest freeways and ports, military bases, U.S. Navy ships, oil refineries, nuclear reactors, mines, high value manufacturing sites, and other critical installations around the globe. For more information on Cohu Electronics' products, please visit http://www.cohu-cameras.com.
For press releases and other information of interest to investors, please visit Cohu's website at http://www.cohu.com. Contacts: Jeffrey D. Jones - Investor Relations (858) 848-8106, or Kirk Leikam – Cohu Electronics, Director of Product Marketing (858) 391-1719