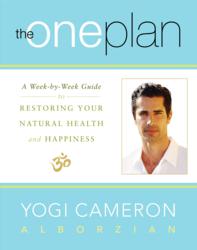 One year to the real you, and the only program you will ever need.
San Francisco, CA (PRWEB) January 08, 2013
Whether seeking to lose weight, deepen spiritual practice, or do away with negative habits, there is a plan that can provide positive changes in short order yet incorporates changes into a lifestyle. In stark contrast to a glut of quick-fix diets and fitness programs is Yogi Cameron's "THE ONE PLAN: A Week-by-Week Guide to Restoring Your Natural Health and Happiness" (HarperOne; January 8, 2013; Hardcover).
This in-depth approach to lifelong transformation is steeped in the ancient wisdom of Yoga and Ayurveda known as the Eightfold Path first described by the Indian sage Patanjali, designed by Yogi Cameron to be compatible with our busy, modern lives. Following a week-by-week structure over the course of an entire year, THE ONE PLAN is a blueprint for gradually creating a healthier, happier life. The book follows the eight steps which guide daily behaviors: The Abstentions, The Observations, Postures, Breath Control, Sense Control, Concentration, Meditation, and Samadhi. When approached as a comprehensive system, this path relieves pain and discomfort in the body, resolves imbalances in the mind, and at its highest level helps us to realize and reveal spirit and purpose.
A practical and accessible fifty-two week program designed to help improve all aspects of daily life, including eradicating bad habits (smoking, eating late at night), physical exercises to strengthen the body, becoming grounded in a new routine, eating the Ayurveda way, and developing new methods for dealing with life's stresses and challenges, THE ONE PLAN is a lasting solution for authentic change that brings lifelong health, balance, and happiness while opening up to the newly revealed spirit within.
About the Author:
Yogi Cameron left the world of high fashion in 1998 to seek the higher path available to all of us. He began his ongoing studies in Ayurveda at Arsha yoga vidyam peetam trust in India under the guidance of his guru Sri Vasudevan after completing the training at the Integral Yoga Institute in New York City and Yogaville of Sri Satchidananda. Since then Yogi Cameron has worked with clients throughout the world to provide them with these ancient methods to live healthier, greener, more spiritually-minded lives in accordance with the Ayurvedic and yogic path. He treats his clients with a variety of Ayurvedic and yogic therapies, diet guidance, and herbal remedies to both treat specific conditions as well as set them on a path to greater mental, physical, and spiritual health. A primary goal of this path is helping each person find their purpose and practice.
He has been featured in The New York Times, Men's Journal, Wall Street Journal, The London Times, ELLE Magazine and on The Ellen DeGeneres Show, The Dr. Oz Show, The Today Show, Extra, Martha, and others. He is a regular contributor to the Huffington Post and Sharecare, a health portal which is part of Dr. Oz's outreach program for health and lifestyle experts. His first book, THE GURU IN YOU, was published in January 2011. In 2012, he came together with Veria Living to star in his own show "A Model Guru" a weekly reality show based on Ayurvedic and yogic living (http://www.veria.com). Yogi Cameron has brought Yoga and meditation to Afghanistan as part of the reintegration program to prepare the country for troop withdraw in 2014, and works with young girls rescued from sex trafficking practices in Cambodia in coordination with the Somaly Mam Foundation. More at http://www.yogicameron.com
About the book:
THE ONE PLAN
A Week-by-Week Guide to Restoring Your Natural Health and Happiness
By Yogi Cameron Alborzian
On sale: January 8, 2013 / $27.99 Hardcover / ISBN: 9780062205834
*Also Available as an eBook*