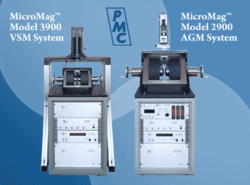 Lake Shore will work to create next-generation technology that combines the speed and sensitivity of the AGM and the precision of the Lake Shore VSM.
Columbus, OH (PRWEB) January 09, 2013
Michael Swartz, CEO of Lake Shore Cryotronics, and Harry Reichard, president of Princeton Measurements Corporation (PMC), announce today that PMC is now part of Lake Shore. This acquisition brings together two leaders in magnetics expertise, joining the MicroMag™ magnetometer systems from PMC to the growing family of Lake Shore products for advanced materials research.
"Since 1989, Harry and the PMC team have pioneered in magnetics research with their Alternating Gradient Magnetometer and Vibrating Sample Magnetometer systems," Swartz said. "We are pleased to announce that these high-performance systems will be part of the Lake Shore product line, complementing our own VSMs and related systems, and further broadening what we offer for our customers in materials characterization research."
"We are excited to become part of Lake Shore," Reichard said. "Over the years, Lake Shore and PMC have shared the same spirit of dedication to customers and innovation. Working together, we plan to advance this technology by developing next-generation systems that will allow our research customers to conduct breakthrough research."
Lake Shore will continue to sell the Lake Shore VSM line alongside the MicroMag AGM and VSM systems. Field support for existing and new PMC equipment will be provided through Lake Shore's global service network.
"For PMC customers, this acquisition provides them with Lake Shore's world-renowned sales and service and recognized technical expertise," remarked Reichard.
Swartz foresees considerable leverage in the combined strengths of the two companies. From early beginnings in the cryogenics arena, Lake Shore has grown to become a leading provider of sensors, instruments, and systems that materials researchers increasingly rely upon for exploring and developing new magnetic, electronic, electro-optic, and related materials. "It's a win for the magnetic research community," he noted.
"It's a new twist on what we've said all along," Reichard affirmed. "Two heads are better than one!"
Together with Lake Shore, Reichard and PMC Vice President Anthony Cumbo will meet with key customers at the joint meeting of MMM and Intermag in Chicago January 14-18. They will discuss emerging applications with the materials scientists they both serve to help develop the product road map for future innovations in magnetometry. Lake Shore will work to create next-generation technology that combines the speed and sensitivity of the AGM and the precision of the Lake Shore VSM.
Visit the Lake Shore Blog for the latest on the transition and new VSM advancements.
About Lake Shore
Supporting advanced research since 1968, Lake Shore (http://www.lakeshore.com) is a leading innovator in measurement and control solutions for materials characterization under extreme temperature and magnetic field conditions. High-performance product solutions from Lake Shore include a broad array of cryogenic temperature sensors and instrumentation, high-performance magnetic test and measurement systems, probe stations for electronic and magnetic material testing, and precision materials characterizations systems that explore the electronic and magnetic properties of next-generation materials. Lake Shore serves an international base of research customers at leading university, government, aerospace, and commercial research institutions and is supported by a global network of sales and service facilities.
About PMC
Princeton Measurements Corporation was incorporated in October 1987 to develop and market the first commercially available Alternating Gradient Magnetometer. AGM systems are currently in use throughout the world. The 1993 addition of their VSM system was designed to be as fast as the AGM system while providing additional flexibility for the measurement of magnetic properties. Princeton Measurements magnetic measurement systems are used throughout the world in many research and manufacturing areas including materials research, paleomagnetic studies, quality assurance functions and any application where measurement speed, sensitivity and precision are primary requirements for the task at hand.