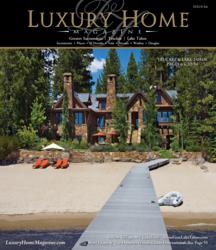 StoneGate is for a buyer who desires and appreciates attention to detail where no expense has been spared.
El Dorado Hills, California (PRWEB) January 09, 2013
Luxury Home Magazine (LHM) is the leader in the market specific presentation of luxury homes and the luxury lifestyle and has been delivering powerful results since 2001. Often referred to as a "Coffee Table Magazine", LHM features exceptional homes currently offered for purchase in select markets across North America. Luxury Home Magazine's bi-monthly, targeted delivery to the wealthiest and most affluent buyers and sellers of luxury real estate provides a solid source of qualified leads for its advertisers. Luxury Home Magazine operates one of the most viewed websites offering luxury homes for sale and has a powerful connection to multiple social media outlets.
The current issue of Luxury Home Magazine of Greater Sacramento | Lake Tahoe | Truckee features a magnificent Lake Tahoe Luxury Home listed by Shari Chase and The Donovan Group of Chase International for $19,950,000.
Obama White House designer Michael S. Smith's sophisticated, yet inviting design style is reflected throughout a stunning Lake Tahoe residence. Known for his work with Hollywood celebrities and most recently the first couple's Pennsylvania Avenue residence, Smith's low-key luxury sensibility was a perfect fit for the owners of this stunning 10,000 square-foot home set on the sandy shores of cobalt blue Lake Tahoe.
"StoneGate Lake Tahoe is an extraordinary home," comments Smith, who has written two home design books. "The attention to detail and craftsmanship is unmatched on Lake Tahoe. It can hold its own with the most beautiful homes in the world."
According to listing agents Shari Chase and The Donovan Group, Smith's lush country lodge décor compliments a home that features unrivaled quality construction from its mechanicals to the impeccable artisan stone masonry and ironwork. Chase and Donovan, who represent many lakefront homes, explain that with its private pier, sandy beach and buoys, this gated estate really has it all. According to these Lake Tahoe real estate experts, this caliber of property is very hard to come by. "StoneGate is for a buyer who desires and appreciates attention to detail where no expense has been spared," says Kerry Donovan, of The Donovan Group of Chase International's Incline Village office.
Luxury Home Magazine of Oregon | SW Washington recently featured a former Street of Dreams home on the cover of the latest issue. This Portland luxury home epitomizes what luxury real estate in Portland should be in terms of its style and grandeur. Listings agent John DeCosta explains why he uses Luxury Home Magazine to market his listings, "Luxury Home Magazine is one of the best forms of marketing I use. Their lead generation is exactly what I am looking for. The people who I want to notice me and my listings see this magazine."
Luxury Home Magazine and Sunshine Publications are optimistic about 2013 and the continued rebound of the luxury real estate market. Luxury Home Magazine has already finalized agreements to open multiple new markets in the next year, including Austin Texas, which will be debuting in the first quarter. Individuals with an entrepreneurial spirit and passion for the luxury lifestyle can find out more by visiting LuxuryHomeMagazine.com/opportunity
Luxury Home Magazine is a division of LHM Media Group, a brand publication of Sunshine Publications, Inc. online magazine content and more corporate information can be found at http://www.luxuryhomemagazine.com. Follow Luxury Home Magazine on their blog, facebook and twitter (@luxuryhomemag) for constant updates on the latest in luxury real estate.
About Luxury Home Magazine:
Luxury Home Magazine is a division of Sunshine Publication, Inc. Online magazine content featuring stunning luxury and the finest luxury real estate and more corporate information can be found at LuxuryHomeMagazine.com
###