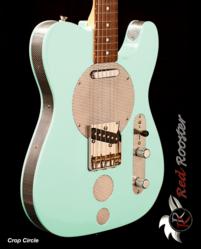 "I know from personal experience that guitar players are always searching for the next guitar purchase to inspire them, and ignite their passion. The new retro cool-inspired Rat Rodster and the Crop Circle models promise to do exactly that."
Los Angeles, California (PRWEB) January 09, 2013
Guitar players craving sublime musical inspiration that is worthy of their time and talent, can now explore the bold new line of retro cool-inspired guitars from custom guitar maker Red Rooster Guitars.
Red Rooster Guitars' new models – dubbed the "Rat Rodster" and the "Crop Circle," respectively – have been painstakingly designed to reflect a unique look and fashion that comes with the musician wanting to stand out on stage visually as well as sonically.
Each precision-crafted guitar is made from quality materials, beautiful finishes, necks with rolled edges, and tips the scales at a surprisingly light 7lbs. The articulation of each note and fidelity from the custom guitar pickups that Jason Lollar makes are the choice red rooster guitars use to compliment the tone of the wood, while the hand-crafted bodies are custom banded with recessed polished metal are the signature look of Red Rooster Guitars. Players will also appreciate the precision fit and finish of the guitars, in fact they will feel the resonation and hear them ring without being plugged in.
Rounding out the uniqueness of Red Rooster Guitars' custom guitars include vintage style kluson staggerd machine heads, CTS pots, CRL switches ,hand polished metals, compensated brass bridge saddles and fast great-feeling V-C shape necks with medium jumbo frets that have been leveled and polished to a silky-smooth finish.
"The sound, playability and look of these custom guitars set them on the level of any stage on any concert tour anywhere in the world," commented Michael Margolis owner of Red Rooster Guitars, and a player for more than 40 years. "I know from personal experience that guitar players are always searching for the next guitar purchase to inspire them, and ignite their passion. The new retro cool-inspired Rat Rodster and the Crop Circle models promise to do exactly that."
Seasoned guitar players, and people who want to get a guitar player in their life a special gift that won't soon be forgotten, can explore Red Rooster Guitars' new line of retro cool-inspired custom guitars at http://redroosterguitars.com/.
For more information or media inquiries, contact Michael Margolis at 818-652-7391 or mike(at)redroosterguitars(dot)com
About Red Rooster Guitars
Red Rooster Guitars is a custom guitar shop based on the West Coast. Company owner Mike Margolis has played for over 40 years, and worked in the music retail world for over 20 years. Mike designed his first guitar in high school, and has been in love with the process ever since. He knew he was onto something when guitarists began asking him about his prototype "Red Rooster" custom guitar, and so he decided to follow his heart and launch Red Rooster Guitars. Jumping into the fire head-first and not looking back, his current line of custom guitars intricately blends traditional guitar shapes with today's "Retro Cool" look. Learn more at http://redroosterguitars.com/