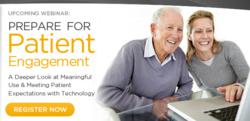 "The Preparing for Patient Engagement webinar will help hospitals discover how to involve patients in their care to meet Meaningful Use objectives with technology," states Didi Davis.
(PRWEB) January 08, 2013
Nationally known healthcare industry expert, Didi Davis, will provide education to healthcare organizations wanting to discover more about how technology plays a role in engaging patients in their health and achieving Meaningful Use objectives. MEDSEEK, a strategic patient engagement platform provider, will offer the complimentary Preparing for Patient Engagement webinar on Wednesday, January 16, 2013 at 1pm CST.
With over 22 years of experience in the healthcare industry and as a former Senior Director of Informatics at the Healthcare Information and Management Systems Society (HIMSS), Mrs. Davis is a subject matter expert passionate about helping healthcare stakeholders use HIT to improve patient safety and quality of care. "Many in the healthcare industry understandably feel burdened and perplexed about meeting Meaningful Use," states Mrs. Davis. "The Preparing for Patient Engagement webinar will help hospitals discover how to involve patients in their care to meet Meaningful Use objectives with technology."
The educational webinar will focus on:

What you can do to prepare for Engaging Patients and Families in Stage 2 and 3
When you need to meet patient engagement objectives
Why you can't afford to wait to implement patient portal technology
How you can ensure patient participation as required to receive incentive payments
"Engaging patients to participate in their health and meeting Meaningful Use is top of mind for healthcare organizations and MEDSEEK," states Travis Moore, RN, MBA, the Vice-President of Solution Strategy and Development. "The Preparing for Patient Engagement webinar will provide clarification, education and guidance around meeting these goals using technology across the entire healthcare organization." Healthcare organization executives, such as CEOs, CIOs, CMIOs, CNOs and leaders in Marketing, Information Technology, Strategy and eHealth are encouraged to attend.
For those that are interested in the education but are unable to attend the live event, all pre-registered attendees will have access to the recorded presentation and a PDF version of the slides.
To register, visit http://www.medseek.com/webinars . As part of MEDSEEK's commitment to advancing digital health education, this event is provided at no cost. Attendees must register to participate.
About MEDSEEK
Since 1996, MEDSEEK has focused exclusively on creating a strategic patient engagement platform comprised of web, mobile, social and predictive analytic solutions. The MEDSEEK Engage platform provides an integrated set of capabilities to help organizations significantly influence healthcare consumer behaviors to drive revenues, contain costs and better balance the financial equation, while simultaneously empowering individuals with the personalized information and tools they need to serve as active participants in their health. With MEDSEEK technology, hospitals and health systems can better predict the needs of their patient population, uncover new sources of revenue, empower patients and families as participants in their care, lower healthcare costs and provide a superior online healthcare experience that results in lasting health-related loyalty. MEDSEEK has over 200 customers representing over 1,100 hospitals including many of the top hospital systems in the United States and Canada.