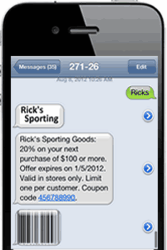 New York, NY (PRWEB) January 09, 2013
With the increase usage of mobile devices and mobile messaging, businesses from retail to healthcare are using SMS Marketing and Business Text Messaging services to engage customers on mobile channel, send reminders, mobile deals, news alerts, product information, or mobile coupons to consumers.
Now it's time for MMS (Multimedia Messaging Service) messaging, which extends the core text messaging that allows rich content such as video, images, audio, and up to several hundreds of text characters within the message. MMS messages result in conversions up to 300% higher than regular SMS messages. MMS marketing is a very powerful marketing tool to create a deeper and more personalized mobile engagement with your customers.
TXTImpact's MMS platform provides an opportunity for marketers to create video and picture message marketing campaigns such as Text-to-MMS. Consumers can receive product rich video or image content by sending a text message to the short code. In MMS-to-win campaigns, consumers can take pictures or record a video and send it as MMS to short code to enter in the campaign. Marketers can also use the mass MMS broadcast feature to send a video or picture message with text beyond 160 characters to opt-in mobile subscribers, e.g. mobile coupons with barcodes, a product short video, etc. Mass MMS broadcast can be sent from mobile phone as well using remote broadcast feature.
The platform allows developers to integrate MMS with their applications with simple MMS APIs. Developers can send and receive video, pictures, and sound to/from mobile users and develop media rich mobile messaging apps. The platform offers suites of messaging applications for business communication which requires more than 160 characters. TXTImpact has also deployed applications such as MMS to Email for business messaging. It creates an opportunity for field communication automation. Insurance claim adjusters can take pictures of damaged property and send as MMS to the back office for processing.
According to company Founder & CTO, Sandeep Gulyani, TXTImpact MMS platform integrates with Facebook and Twitter as well, while businesses send MMS to audience they have an option to post the MMS message to Facebook timeline and twitter using social connect at the same time.
There is a myth that only smartphones can send and receive MMS, but the fact is that even featured phones with a camera can also send and receive MMS. This means that most mobile subscribers can send and receive video or picture MMS to/from their mobile phones. The TXTImpact MMS platform can deliver rich multimedia messaging to 250+ million consumers in the USA to all major carriers and mobile devices.
For more information, visit: http://www.TXTImpact.com/mms-messaging.asp
About TXTImpact
TXTImpact is the one-stop mobile marketing company that enables businesses, brands, and agencies to engage customers via mobile. TXTImpact allows companies to interact with customers via Text Messaging, MMS Messaging, mobile websites, QR codes, social media, and HTML5 apps using its proprietary mobile marketing platform. TXTImpact is focused on providing hybrid managed mobile marketing, Text Messaging, and MMS gateway applications for creating Text Alerts, Text Voting, Text-to-Win (Mobile Sweepstakes), Group Texting, Text Trivia, Text for info, Mobile QRcode, Mobile websites, office SMS communication tools, complete with enhanced reporting and analytics to measurable campaigns effectiveness. TXTImpact supports all major USA, Canada, and UK carriers.
Contact:
Susan Raj
1 (800) 209-2188
Susan[at]TXTImpact.com