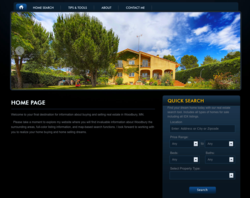 Plymouth, MN (PRWEB) January 09, 2013
Real estate technology and website company, YourMLSSearch has been in the business for over a decade, so they know what homebuyers are looking for when it comes searching for homes. With new real estate agent websites joining the World Wide Web every day, agents need to do what it takes to be noticed. YourMLSSearch offers customizable template designs, like homesbyfitzpatrick.com, that are sure to make any agent stand out.
With an endless supply of websites online, real estate agents need to be able to grab their users' attention in a matter of seconds, or risk becoming overlooked. The new real estate website templates from YourMLSSearch.com capture homebuyers at the first click and engage them throughout the home search process. The template homepage quick search and featured property slideshow immediately draw in users and guide them effortlessly through the website to the information they are seeking.
The templates were designed around the way users now navigate websites for information, keeping SEO in mind. YourMLSSearch not only wants to create eye-catching real estate websites, they want to make sure once the websites launches, search engines can find them.
Visitors to these new websites will not only be able to search for homes, but also find relevant information about the real estate market. With easily accessible contact forms, both buyers and sellers will be in constant communication with the realtor. With the real estate industry turning to the Internet, real estate professionals need to be easily accessible to their buyers, and the templates from YourMLSSearch make that happen.
The goal of the new template designs is to catch viewers' eyes and keep them on the website. Through this innovative approach, YourMLSSearch.com simplifies interaction between the realtor and their client more than ever before. With the majority of home searching done on the web, real estate agents need to stay up to date on innovative technology, and YourMLSSearch is there to help.
About YourMLSSearch:
YourMLSSearch has been a leader in IDX search, real estate website design, real estate technology and online marketing for over a decade. YourMLSSearch employs former realtors and website developers that know what real estate agents need and want to stay ahead of the competition.