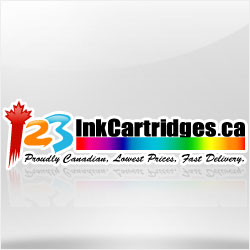 Montreal,QC (PRWEB) January 10, 2013
The inventory at 123inkcartridges.ca continues to grow and the company just announced that the Targus 16" denim laptop backpack is to be included in the most recent additions. The brand name backpack is designed specifically to fit a range of laptops with screens up to 16" in size. It also has a convenient phone pouch which allows easy access to a mobile phone. The pack is constructed of durable denim and has zippered access to smaller compartments which can hold small items such as keys or wallets. The interior portion is also organized and has handy features such as pen loops and accessory pockets. For the laptop it provides a nicely padded pocket to ensure that the computer is protected during transport. And the bag has a comfortable back panel and shoulder straps.
The firmly established company 123inkcartridges.ca makes it their primary goal to provide high quality products such as the Targus 16" denim laptop backpack to their customers at prices they can afford. Targus is a brand name which has long been associated with the highest in quality and the company is proud to add it to their rapidly expanding list of products. The backpack is one of the most essential computer accessories for those who value mobility.
The full line of products along with the latest additions can be viewed on the company website at: http://www.123inkcartridges.ca. The company offers a lifetime limited warranty on this item. The Targus backpack's exterior is made of water and stain resistant nylon. The interior portions are constructed of scratch resistant microfiber.
About 123inkcartridges.ca
Many years ago, 123inkcartridges began offering a variety of printer related products to their customers. Their goal was to provide only the highest quality products but to offer them at reasonable prices that customers could afford. The company experienced very rapid growth and soon expanded to include a wide variety of computer related accessories. In just a few short years the company grew to be the number one online source for computer and printer related products. They have continued to expand their product line while maintaining their high standard of quality. All of their products can be viewed on their official site at: http://www.123inkcartridge.ca.