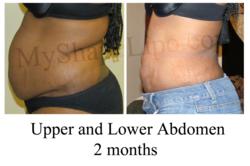 Some patients have totally unrealistic expectations of their liposuction procedure.
Las Vegas, NV (PRWEB) January 09, 2013
Most people take medical procedures very seriously. For great comedy, there is usually a little truth to the joke. Liposuction patients all have different expectations of how the procedure will change their life. MyShape Lipo uses experience to create a comedy sketch portraying various patient expectations.
The use of comedy in respect to cosmetic procedures is unprecedented in the industry. The team at MyShape try to have fun with their job and make the whole experience enjoyable for their patients. "None of our patients are sick or dying, we are removing fat," says Liposuction Specialist Trevor Schmidt PA-C. "It's easier to laugh at yourself when you know things will be better."
Using comedy to promote a business is nothing new in the marketing world. But the cosmetic industry has yet to catch on to this trend of entertaining their followers. This video is in unchartered territory and it is yet to be seen how the general public will accept the comical nature. The host of the Will Edwards Show of Las Vegas plays "Ms. Pam" a character he created, who has become an iconic figure of his show. Will is a good friend and avid supporter of the MyShape Lipo team. The liposuction specialist, Trevor Schmidt PA-C has been featured on the show twice to date.
"Some patients have totally unrealistic expectations of their liposuction procedure," says Schmidt. "I thought it would be entertaining to poke a little fun at these dreams. In the dream world, anything is possible, which leaves it wide open for some really funny situations."
MyShape Lipo is a liposuction specialty clinic located in Las Vegas. They offer complimentary consultations via phone or in person. With affordable prices and the experience of nearly 10,000 procedures, it's easy to see why people are coming from around the world for their services.