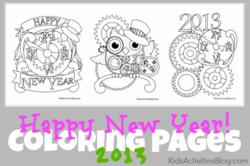 Cute printables are fun to decorate and can turn into handmade cards.
Dallas, TX (PRWEB) January 07, 2013
Kids Activities Blog is kicking off the New Year with simple, creative, and fun kids activities. Adorable New Year coloring pages are currently featured on Kids Activities Blog. These fun printables feature cute owls that look like the inside of a clock.
Boys and girls of all ages will enjoy these fun coloring pages that can be turned into creative art masterpieces. A series of innovative craft ideas, that do not use markers when coloring, will have any age child busy for hours.
These ingenious ideas to fill out the pages include to simply glue flat colorful marble pieces to fill in the picture, or to outline the owls or clocks with colored glue. Another fun method is using nuts, seeds, or other items found in nature to fill the page. For a complete list of ideas check out Kids Activities Blog.
Another fun project is the snowman printable craft. This printable can be assembled and decorated by kids of all ages. If the kids want to turn frosty into a real snowman, simply use real fabric scraps, buttons, or twigs to decorate the template.
Both printables can be made into cute homemade cards as well. Check out Kids Activities Blog for these and more creative ideas for the winter season to inspire the kids as well as adults.
About Kids Activities Blog
Kids Activities Blog is a website created by two moms (who collectively have 9 children), Rachel Miller and Holly Homer from June Cleaver Nirvana. It is their daily goal to inspire parents and teachers to play with kids. This interactive website publishes simple things to do with kids twice a day. Kids Activities Blog is a great tool for moms and teachers to find kid-friendly activities that create memories and sneak learning into the fun.