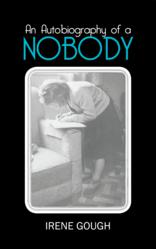 Finding a humorous take was the only way to survive.
Oxford, UK (PRWEB) January 14, 2013
Irene Gough's second marriage was riddled with great highs and terrible lows, a result of her husband's multiple personality disorder.
In her new memoir, An Autobiography of a Nobody, Gough tells how she navigated a 'minefield marriage' for more than 20 years by seeking humor and optimism in the midst of grim circumstances.
"My husband's disorder meant that no two days were the same," Gough says. "We (my children and I) were ecstatically happy one moment and running for our lives the next. Finding a humorous take was the only way to survive."
Dissociative identity disorder, also known as multiple personality disorder, is statistically rare, inflicting .01 to 1 percent of the general population. It is characterized by the presence of two or more distinct identities, each with its own enduring pattern of perceiving, relating and thinking.
In An Autobiography of a Nobody, Gough frankly discusses her late husband's violent tendencies, answering the million-dollar question: 'why did you stay?'
"In meeting my second husband, I realized what true love was all about," Gough writes. "Although living with him was sometimes a nightmare, we were unbelievably happy at others. Life was never dull."
An Autobiography of a Nobody
By Irene Gough
ISBN: 978-1477239582
Approx. 512 pages
Paperback 6x9
Retail price: $28.92
E-book price: $3.99
Available at Amazon, Barnes & Noble
About the author
Twice married, Irene Gough helped her husband run a successful scaffolding company for more than 20 years, until his death in 2002. Gough has three children and six grandchildren. Gough has been involved with Girlguiding UK for 25 years. Today, she co-owns and operates a beauty salon with her daughter and enjoys writing and telling stories.