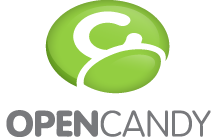 San Diego, California (PRWEB) January 10, 2013
SweetLabs®, Inc., the company behind the OpenCandy advertising network for apps, today announced that OpenCandy has helped Windows developers monetize the distribution of over 1 billion installs of free apps on the PC. Over 2012, monthly offer volume increased by 63% and payment rates to app developers increased by 70%, as OpenCandy closed out a record month, quarter, and year in revenues.
"OpenCandy and our partners have always rejected the 'quick buck,' maintaining that a diverse portfolio of offers and the highest quality standards in the industry would win long-term," said Darrius Thompson, co-founder and CEO of SweetLabs. "We're seeing the 'software bundling' marketplace trend rapidly towards high-quality methods and diversified revenue streams beyond those solely funded by search. This trend is being amplified by recent policy changes from major search advertisers that could result in a multi-billion dollar reduction in search-related spends in 2013. Our diverse portfolio of offers and high-quality approach ensure OpenCandy and our partners are well positioned to take advantage of this market reset."
OpenCandy's offer portfolio includes non-search categories like anti-virus, system utilities, backup, storage, entertainment, and games as well as a variety of increasingly competitive search products from partners like Microsoft, Yahoo!, Baidu, and Yandex. This diversity, in conjunction with OpenCandy's patent-pending app recommendation and delivery platform provide partners with real-time, automated earnings optimization along with complete control of their offers.
"I've tried direct, exclusive partnerships with search advertisers in the past, and they just haven't provided the same quality, flexibility, control, and earnings potential as OpenCandy," said Florian Schmitz, developer of CDBurnerXP. "Now, with growing saturation and the recent policy changes we're hearing about, there's more reason than ever for us to continue our successful partnership with OpenCandy to ensure we can keep providing our CD and DVD burning software for free to millions of users."
OpenCandy saw record revenues in December, the majority coming from app advertisers promoting non-search based products, who's spend surpassed those from search-based advertisers for the first time. This, while many OpenCandy competitors are reeling from rapidly declining search revenues and backlash from distributing deceptive ad injectors.
"Now, more than ever software developers have major decisions to make on how to ensure their products remain free while creating thriving, high-quality and profitable businesses," said David Gilby, Senior Director of Sales and Business Development at SweetLabs, Inc. "OpenCandy's broad worldwide offer portfolio is coupled with best-in-class policy, compliance, and technology to give developers and their users a quality experience, along with the choice, support and transparency to navigate this rapidly changing marketplace."
For more information on OpenCandy, visit http://www.opencandy.com.
About SweetLabs
SweetLabs® is the startup behind OpenCandy® and Pokki®. OpenCandy is a high-quality advertising network for apps on your PC, having powered user-friendly app recommendations in over 1 billion installs to-date. Pokki is an app platform that brings your favorite apps and games to the PC, with all of the fun and convenience of today's mobile and tablet app experiences. SweetLabs was founded in 2008 and was recently awarded the "5th Best Place to Work in San Diego" by San Diego Business Journal. SweetLabs is backed by Bessemer Venture Partners, Google Ventures, Intel Capital, and O'Reilly AlphaTech. Visit http://www.sweetlabs.com for more information.