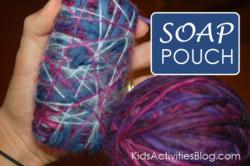 Felted soap pouch to the rescue to stop slipping away out of little hands.
Dallas, TX (PRWEB) January 19, 2013
The flu season is in full swing and Moms are stressing the emphasis on personal hygiene with their kids. All parents have hollered "wash your hands" when the kids have left the restroom. When checking the restroom, they found the pump variety of soap to be empty, because of overuse, and the soap bars unused because they are simply too slippery for kids hands.
Felt pouch soap to the rescue! The soap looks cool and will not slip out of kids hands. Materials needed to make the soap are simple: leftover wool yarn and a bar of soap.
Simply wrap the wool around the soap at least three times. The more times the better. Then dip the soap with the wool in very hot water. Use tongues to hold the soap and let the soap cool down. Then rub the wool gently until the suds appear. Repeat the process several times. The hot water will shrink the yarn, and the rubbing and suds will allow the yarn to cling to each other creating felt.
The felt pouch will shrink over time and will provide a non-slippery surface to keep the soap in the little kids hands. And it looks cool, too.
Another clever way to get the kids wash their hands regularly is by making DIY treat soap. Materials needed are a small toy, a small piece of plastic wrap, glycerin, and a soap mold. Food coloring, essential oils and soap scents are optional. The most important and trickiest part of the whole assembly process is trying to find a small toy that will fit into the mold and will be of interest to the child. Once the toy is chosen, the soap can be assembled within 15 minutes and used after one hour.
For complete instructions on how to make the treat soap check out Kids Activities Blog. Get inspired to make hand washing fun and easy to do for even the youngest kiddos.
About Kids Activities Blog
Kids Activities Blog is a website created by two moms (who collectively have 9 children), Rachel Miller and Holly Homer from June Cleaver Nirvana. It is their daily goal to inspire parents and teachers to play with kids. This interactive website publishes simple things to do with kids twice a day. Kids Activities Blog is a great tool for moms and teachers to find kid-friendly activities that create memories and sneak learning into the fun.